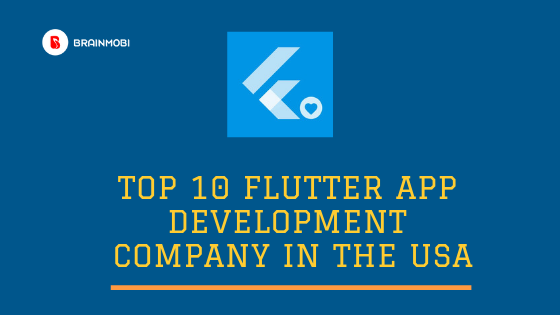 Flutter is one of Google's latest mobile app SDK or mobile app development framework which assists to develop and deploy high-end cross-platform mobile app development with independent and attractive UI a quicker pace compared to other platforms. It is categorized in terms of widgets, an interface of an app and the control overview element. In this manner, it becomes more reusable and developer friendly in comparison to React Native and any top mobile app development company in USA would know this fact.
What Excites Us About Flutter?

Eliminates Javascript bridge to communicate with OEM widgets.
Highly attractive User Interface.
Dart is very similar to java and shall assist existing java platforms to learn easily
Intrinsic UI elements for native android and native iOS
All of these attributes make Flutter one of the fastest accepted platform for mobile app development among mobile app development for projects commencing in 2019 and beyond.
Among the several Flutter app development companies only few satisfy the criterion to be best ones that have team of developers dedicated to flutter app development. While the SDK is very new and not reached the kind of stage at which react native stands still there is a lot of potential that can be fetched from companies. Let us look into these most suitable companies for Flutter app development.
An India based IT firm with development centres in Singapore believes in designing high end cross-platform mobile apps with highly engaging and intuitive UI. Their developers owing to the rich experiences and challenges of cross-platform development are now highly skilled in customizing the widgets in Flutter to develop a mobile app that is fully responsive.
With their development portfolio, they possess the capability to develop flutter apps for across every possible industry domain. It is also one amongst one of the most popular mobile app development companies in Singapore as adjudged by Yahoo and reputed for using their three flexible engagement model.
Foundation Year
2009
Company Size
51-200 employees
Specialities
Mobile Application Development(Native and Hybrid), Enterprise App Development, React Native App Development, Flutter App Development,  Website Design and Development, Ecommerce Website Development, Digital Marketing, Logo Design, and Product Design.
SayOne is amongst one of the leading software firms in India and aims to deliver best in class mobile apps to clients by being front runner in latest technologies. Their partnership with Divio (to run Django projects) and Scrapy (Amazingingly Fast Web Crawling Framework) gives them an edge over other software development companies.
They have developed and delivered business solutions for companies of all Size ranging from Start-Ups to SMEs across the globe.
Foundation Year
2011
Company Size
51-200 employees
Specialities
Android, iOS, Django, PhoneGap, UX/UI Design, Flutter, Django Oscar, IoT, Golang, ReactJs, Retail Solutions, React native, Python/Django, AngularJS, Node.js, Big Data & Analytics, Kubernates,  Data Mining , Block Chain, POS, Indoor Navigation, Play Framework, Docker, and Microservices
Brainmobi uses its expertise in Flutter for design and development of high-quality feature rich native applications supported with rich native UI in less development time. Flutter developers expertise in leveraging the efficient architecture and implementation methods to ensure fluid user experience for end users.
Their passion to provide best in class mobile apps helped them get expertise in style and functioning of widgets and eventually be one of the best Flutter app development company developing cross platform apps in all industry domains.
Why Hire BrainMobi for Flutter App Development
Experienced, passionate and certified developers
Agile approach for mobile app development
Full focus on UI/UX design
Foundation Year
2016
Company Size
51-200 employees
Specialities
Mobile App Development, UI/UX Design, Responsive Website Design, Enterprise Mobility, Custom Application Development, IoT App Development, AR/VR App Development, Beacon App Development, iOS App Development, Android App Development, Wearable App Development, Application Redesign and Migration.


Another great flutter app development company based in India with focus on mobile and web app development. Technologies including Flutter, React, React Native, Angular, Laravel, VueJS, NodeJS, and PHP are used to delight users with impressive as well as feature rich mobile apps.
Their tech expertise and curiosity to explore what's new is behind development of innovative tools like NativeBase, NativeBase Market, and BuilderX.
Foundation Year
2006
Company Size
51-200 employees
Specialities
Flutter, Angular, Vue.js, React, PHP, React Native, JavaScript, Node, Project Management, Product Development, APIs, WebSockets
Their expertise in Flutter alongwith IoT, blockchain and other emerging technologies helped them to be one of the most thriving mobile and web app development companies on global level.
They have a passionate team of software engineers, project managers, and strategists who believe in uniting their skills to develop business solutions for  achieving clients business objectives.
Apart from Flutter app development their area of expertise include below
Product Development
QA, Automation and DevOps
Digital Marketing
Their high end end-to-end mobile application development solutions is result of innovative product development.
Foundation Year
2011
Company Size
51-200 employees
Specialities
Flutter App Development, Web Application Development, Cross platform mobile app development, Mobile app development, Agile Training, Agile Software services, Agile Consulting, Enterprise Ecommerce development, CMS, Customer relationship management.
Ripen Apps expertise in Flutter app development and passion to develop hybrid mobile apps for impressive user experience ensures end user gets a feature rich mobile app with eye catching user interface.
They have experience of developing apps in different industry domains to help their client expand their business and increase the ROI. Their love for getting equipped with technologies helped them build and impressive portfolio.
Foundation Year
2011
Company Size
51-200 employees
Specialities
iOS, Android, Native App Development, Mobile Applications, Web Admin Panel, Website Development, Web, Cross Platform, Hybrid App Development
Posse is a New York based multi-platform digital design & development company with focus on developing best in class mobile apps for iOS and Android platform. It is also a Google certified agency.
Foundation Year
2008
Company Size
11-50 employees
Specialities
Search Engine, Internet, Social Commerce
They have an innovative and tech savvy Flutter mobile app development team that is capable of developing customised cross platform mobile apps. In this manner they are developing affordable business solution for their clients.
Cost Effective, Eye Catching and High Performance are the qualities that forms the basic of mobile apps developed by Icoderz Solutions using Google's Flutter.
Foundation Year
2011
Company Size
11-50 employees
Specialities
Android Application Development, iPhone Application Development, iPod Application Development, Graphics Design, Logo/Business card Design, Mobile App Marketing, BlackBerry Application Development, Windows Mobile Application Development.
Xongo Lab is known for delivering best quality of services that perfectly match the industry benchmarks, as well as rigorous testing methods, ensures the application is error free always.
They are among the leading flutter app development company due to their ability to integrate extra extensions into Flutter app development process as well as expertise in create widgets that are as per project requirement. They are professionals who value the time of client and always do their job within the deadline.
Foundation Year
2011
Company Size
11-50 employees
Specialities
Mobile Apps Development, CMS Development, UI / UX Analysis, Web Development, e-Commerce Development, On Demand App Solutions,  PHP Development, Magento Development & Customizations, Ruby on Rails Development, Wearable Device Apps Development, Node.js Development, ReactJS Development, AngularJS Development, Meteor.JS Development, Taxi App Development,PWA, AMP.
Hyperlink Infosystem is recognised among the finest Flutter app development companies around the globe. Within short span of time since the release of Flutter they have achieved a professional level of expertise in style and methods of Flutter.
They believe in delivering fastest and smartest solution for cross-platform mobile app development using Flutter. This helps them to boost client business on global level with next-gen mobile apps that are flexible and ensures immersive end user experience that too in less time.
They have a team of developers skilled in Flutter app development who focus on developing better business solution by leveraging the benefits that come with Google's Flutter framework.
Foundation Year
2011
Company Size
201-500 employees
Specialities
Mobile App Development, Android app development, iPhone app development, Website development, Windows app development, Blockchain Development, Augmented Reality, Virtual Reality, Wearable App Development.
They have below qualities that make them strong team of flutter app development
Innovative approach.
Agile methodology.
Dedicated focus on UI/UX.
Industry-Specific Solutions.
Intensive Research.
Highly skilled Dart programmers.
The above list is created to ensure an unbiased view and present the Top 10 Flutter App Development Companies that are dedicated towards providing best in class cross platform mobile apps

---