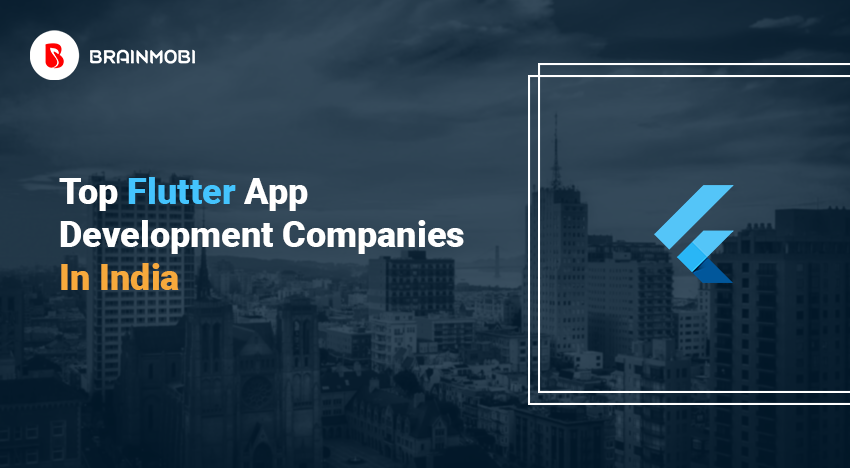 A buzz is being created in the modern development world with the onset of Google's latest platform SDK Flutter. With the very flexible and native features, it has encouraged many developers to learn and adopt the SDK into their development projects. Judging from the reception developers tend to like Flutter's development abilities. Almost every enterprise is now on the verge of fetchin the best out of Flutter.
In such a scenario it is really important to come across the top Flutter app development company for your business. Their experience and knowledge in the technology lets you backup confidence with respect to your application criteria. But in order to find a trusted company amongst a mass requires extensive effort. To make this process easy we are sharing a list of Top Flutter app development companies in 2019.

Hyperlink InfoSystem is amongst the leading web and mobile app development companies. Their team of diverse developers and business analysts can help arrange for the smartest and quickest solution for your cross-platform development projects and bring to reality the business frameworks for your concepts. They have been regarded in the market for their flutter development endeavors. They have passionately build many beautiful and functionally-rich mobile applications, crafted to meet each and every demand of yours. Hyperlink InfoSystem has unique development strategies for startups and has established a certain track record to deliver large-size enterprise solutions to businesses from all over the globe.
BrainMobi offers unmatched expertise in all aspects of digital and mobile development, from strategy to ideation and from development to delivery. Their extensive expertise on the platform makes them a suitable candidate for multi-platform, cross-platform development and integration requirements. By using Flutter framework, their professional app developers build next-generation mobile app development for iOS and Android in record times without compromising with the efficiency and design.
Dogtown Media has the ability to analyze and design every aspect of your project in order to ensure that it is engaging, stylish, and easy to use. Their experience enables them to come up with strategies that are needed to turn promising concepts into successful mobile apps and successful business models. Their design team creates innovative interfaces tailored to meet your demands.
Ready4S is amongst the top-rated mobile & web app developers in Europe and the USA. Their specialty lies in creating the utmost mobile experiences for both iOS and Android platforms while preserving the feature-rich design. This makes them one of the top Flutter app development companies in USA. Their mobile app development and consulting services work towards creating comprehensive business applications that helps unleash kickass MVPS which line in for faster efficient business growth at lower costs.
Being a Technology & Solution Consulting driven company, they focus on building technology products that can help companies accelerate growth. They achieve this by utilizing their technical capabilities, process, and expertise within the domain and grab access to the best price-for-value skillset of flutter and backend developers. The tastefulness of their designers are combined with regular audits, which contributes towards making your solutions productive and profitable in the market.
Stfalcon is a software development company aimed towards focussing on logistics, travel, healthcare and e-commerce solutions. Their primary web solutions are based on the Symfony framework, developers are capable of handling mobile teams handle cross-platform and iOS / Android native application development.
Yalantis is another well regarded full-stack mobile (iOS, Android) and web app design and development company that is also capable of providing remote teams for companies that wish to outsource both short-term and long-term development tasks as depending on the project. They work extensively on cutting-edge technologies, frameworks, and methodologies to provide a seamless mobile experience for your business requirements.
Netguru has a reputation for developing digital products that let people conduct business in a very different way. Their clients have made revolutionary changes to the way people learn music, learn languages or even rent bikes. The digital experiences they create for their clients and end-users lets them enjoy and gain a new experience overall. They have skilled developers for Flutter app development who are well versed in the technical capabilities of the framework.
They work with clients of all sizes and different verticals which enables them to understand how and where to use mobile in their organization to improve operations, and then deliver the complete solutions to make it happen. Their combination of experience and evolved elements within developers, innovators and thinkers along with UX-ers and inventors are continuously looking for ways to improve things. As a full fledged end-to-end digital solution that saves precious time and has won a number of awards as well.


The company focuses on developing applications that deliver authentic customer experience and contribute to better growth in the market. The excellent service provided by e-Leigon is based on four major pillars like careful analytics, UX/UI design, strong development, and detailed testing. This has contributed towards retaining most of the clients and developing long term partnership deals with them.
The listed company details are based on our deep research and experience that comes with collaboration endeavors. Hope this detailed analysis will help you to find the best Flutter app development company. If you are looking for any queries in Flutter app development areas, feel free to reach out to us.

---