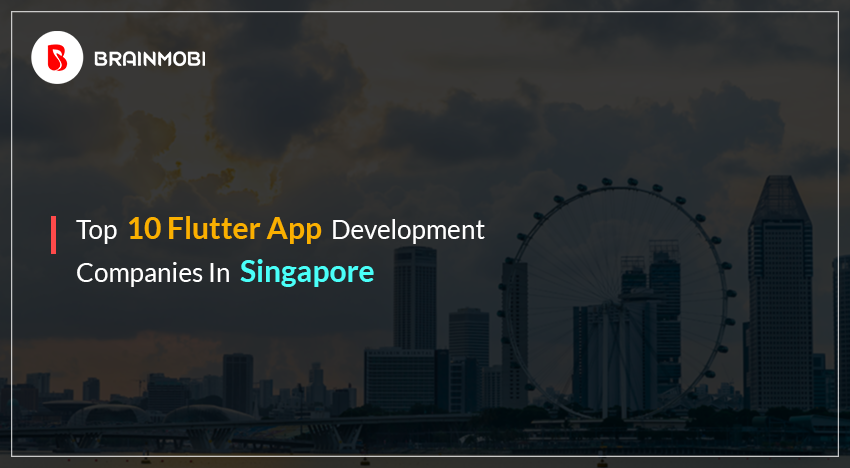 Flutter is a highly anticipated development modules can help you overcome your cross platform development necessities with great ease and accomplish great experiences with your applications. We have compiled a list of the top 10 flutter application development company that help you implement the job to perfection.
Cost Estimation: $25 – $49/hr
Location: India, Singapore
Employees: 50 – 100
Established: 2016
BrainMobi is one of the top rated web, mobile and cloud app design and development studio which comprises of a 35+ workforce serving clients in 20+ countries. Its team consists of well certified experts in providing mobile apps, web apps and cloud apps on various modern technologies. They are committed towards providing creative and innovative mobile business strategies which is obtained by leveraging their industry-wide experience and technology expertise which comes handy when it comes to assisting clients and increase business profits. We identify the latest growth opportunities into the emerging new business sectors and markets. They identify themselves with their goal of bringing quality mobile phones for a long long time into existence.
Cost Estimation: < $25/hr
Location: United States, India
Employees: 50 – 249
Established: 2007
Octal IT Solution is a global IT service provider having a widespread presence around the UK, USA, Singapore and India. The company is reputed when it comes to delivering niche solutions in the areas of web and mobile app development. Octal has went on to maintain its quality as its virtue on a number of occasions. An ISO 9001:2008 certification can give you an idea of the  strict discipline towards the prominent quality standards it maintains for its applications. The company went forward to produce flawless results since last decade. Since its inception 10 years ago Octal has earned notable associations from technology giants like Microsoft, NASSCOM, Amazon Web Services, Acquia, STPI and Drupal Organization etc.

Cost Estimation: $25 – $49/hr
Location: India, Singapore
Employees: 10 – 49
Established: 2015
ROCKETECH is a software development company that successfully converted the business interests of several organizations into digital streams of audience. Its team is responsible for developing IT-products for customers which can range from any complexity and provides a full range of work right from pre-project studies to development. Till date, ROCKETECH  has gone forward to implement more than 130 projects with superb clients from the field of banking, fintech and other related fields.
The company comprises of professionals who are ready to develop IT solutions in accordance to the business logic of your project.
Cost Estimation: $25 – $49/hr
Location: India, Singapore
Employees: 50 – 249
Established: 2000
Intelegain is a global technology and innovation company with offices scattered around Dallas, Mumbai, Singapore, Dubai and Sydney having 15 years of technology consulting experience, development and servicing over 350 customers in over 25 countries.
Intelegain drives digital engagement and generation business value for Start-ups and Enterprises using Enterprise Mobile, Web and Cloud-based applications and is capable of allowing businesses adopt and leverage the power of mobility within a fast changing mobile ecosystem by building products that solve major issues and give a delightful experience to its clients.
Their team lets them work with medium and large enterprises & and also help start-ups grow by creating great mobile experiences & custom software products.
Cost Estimation: < $25/hr
Location: Singapore, India
Employees: 50 – 249
Established: 2002
Tvisha Technologies creative juices to come up in the fast gliding technology arena which has helped them spur with immaculate products and services. Their vast ensemble of services incorporates a wide spectrum of needs of enterprises in the tech world. Tvisha has went forward to create a niche space within itself when it comes to Mobile Application Development, Software Development and Maintenance. Their elite portfolio of clients and sophisticated premier products eloborate their efficiency, adaptability and the cutting edge of their professionals across various industry verticals and platforms including Windows, Linux, Android & iOS.
Cost Estimation: $25 – $49/hr
Location: Singapore, United States
Employees: 50 – 249
Established: 2012
INGIC is a results-driven mobile app strategy, design, and development company, focused towards high conversion rate through custom development. The company comprises of the most talented, skilled and experienced professionals from the industry. We transform simple ideas into great products with the aim to convert a simple creative thought into robust functional solutions that constantly define itself.
The global love they get from their clients comes from one simple reason: the level of connection they are able to establish using their projects. The company headquarter is located within the state of California. But they have additional three offices in the United States from where they operate alongside their own four offices at global destinations including UAE, KSA, Singapore and United Kingdom.
Cost Estimation: < $25/hr
Location: India, Singapor
Employees: 10 – 49
Established: 2004
Alea IT Solutions, a multinational company with offices scattered around in India, United Kingdom, Singapore and is a global service providers that emphasize delivering a wide variety of products and services to its global clients utilizing the traits of its well-qualified team of IT professionals. Alea intends in delivering the very best quality and mainly works in Website Design, Website Development, Application Development, Mobile Application Development and other different types of customised business solutions. They also cater for clients worldwide from a spectrum of different industries combined.
Cost Estimation: < $25/hr
Location: United States, Singapore
Employees: 10 – 49
Established: 2012
Metizsoft Solutions expertise in developing user-friendly, clean & well-organized business solutions which can come to the advantages of several organizations & individuals. They are capable of handling all aspects of Web & Mobile Apps development besides Digital Branding for the various Businesses amongst the likes of e-commerce stores, Pharmaceutical, Health & Pharma sector and also telecommunication.
Cost Estimation: $25 – $49/hr
Location: United States, Singapore
Employees: 10 – 49
Established: 2015
WoMA Technology Solutions is deeply committed to the philosophy of designing and developing client-centric digital enterprise solutions. Their development routines for your app or website, or even the digital marketing strategies, give you lots of room to analyze and implement the process.
Using a combination of cutting-edge technologies, stunning visuals and out-of-the-box strategy, that will quickly help you establish a digital presence for your customers and clients shall come in accordance with.
Their well-organized and flexible team, we can work on projects right from the scratch and can also assist by joining your existing team to supplement talent which doesn't necessarily require you to hire a full-time staff.

Cost Estimation: < $25/hr
Location: India, Singapore
Employees: 50 – 249
Established: 2009
Web Crayons Biz comprises of a team of passionate designers and developers and programmers united by their love for design and development. They are innovators and creators which contribute by creating coolest of stuff for you or your if it comes to easing out your business. Their work readily speaks there philosophy and while their quality remains the top most priority, they also maintain client deadlines. Each of their projects is special in terms of the growth they are capable of and so are their clients who owe their success to them.
---