Android

App Development

Android has become one of the fastest growing mobile platforms in recent years with more than 70% users using android phones across the globe. According to the statistics revealed by Statista, android leads the global market with 80% android users in the world, while apple's iOS ranks second. Android is backed by Google, and is constantly updating and innovating the mobile OS to increase user engagement and smoothen mobile operations. As for its versatility, user-friendly and open-source platform, it has easily become the preferred choice for app developers.

BrainMobi is one of the best android app development company offering scalable android applications with intuitive designs. Our certified and experienced android app developers are capable of performing deep research and are keen to follow agile methodologies when it comes to executing the best practices in app development. Our skilled developers have in-depth knowledge and strong expertise in Android Software Development Kit (ASDK) APIs, Android Native Development Kit (ANDK), and android emulator.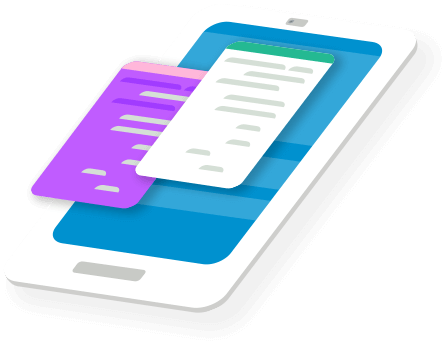 To discuss your Android app development requirements further, you can directly
reach us
Benefits of Android Application Development
Open Source
Android is an open source platform and has low entry barriers and allows developers to build apps very easily. Its features help offers relatively faster and low cost development for business and start-ups. Its robust Software Development Kit (SDK) helps to reduce development cost which means that it can be leveraged without having to worry about the licensing costs.
Large User Base
Android gives you a world-class platform for creating applications and android games for hundreds of millions of users in more than 190 countries around the world. Each month more than 2 million apps and games are downloaded worldwide. This allows you to reach out to larger section of the android users and increase your market penetration.
Powerful Framework
Android offers everything you need in terms of mobile app development. It seamlessly helps enhance your UI to the authentic standards for various mobile devices, while letting you have full control on your UI for different device types. Android developer tools offers a full Java IDE with features for developing, debugging, and packaging Android apps.
Customizable User Interface
Android studio has always been prime when it comes to offering customized user interface. Apps developed on android platform give ease of customization and have been proven more easier to manage. This in turn has helped application development firms reach higher levels of customization for android apps for businesses. This also helps data management and updating multimedia tools.
Top Industries Using
Android

App Development
Our
Android

App Development Services

Hire dedicated android app developers

Custom server-side APIs for mobile

Minimum Viable Product (MVP)

Get personalized services with us

Quick support & maintenance

Advanced app development approach
Why
Hire Android App Developer

From BrainMobi?

Experienced and certified developers

Dedicated team for every project

Agile approach to mobile app development

Strong focus on UI/UX design

Flexible delivery and commercial models
Scroll left to view more
250+Apps Developed &
Marketed

100+BrainMobians

200+Happy Clients

4Offices in India,
USA, Germany & Qatar

5000+Publications

20000+Hours of Effort