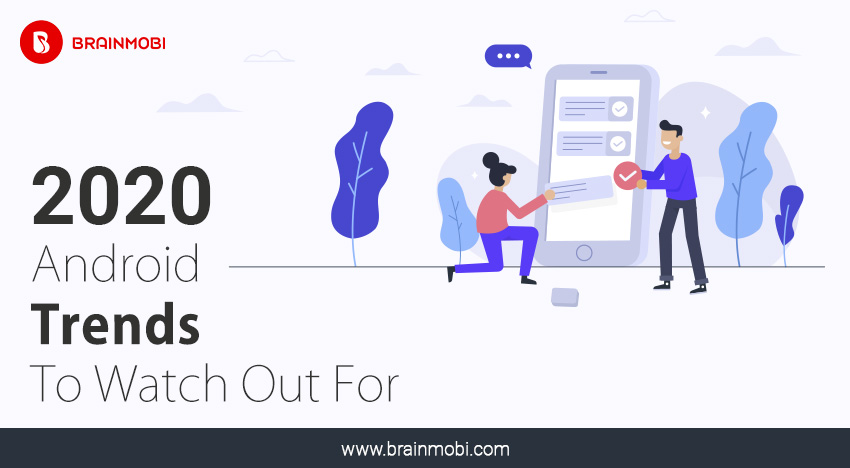 Google and Android are constantly looking forward to devise new way and methods to improve user experience and it is this drive that will bring about an achievement in the trends of android application development. These are highly crucial when looking to start a new programmers for your custom application development project will have to bear the following trends in mind in order to stay relevant with the upgrades and evolution.
As one of the Top Android Application Development Company, we at BrainMobi have taken several successful endeavors that field and are keen share a few insights on how this track evolves,
Growth Of Google Instant Apps
Google has made some heavy integration efforts with the android operating system and the android tech support is the reason why their instant app vision shall be manifested soon on the platform. Latest Android versions like Android 5.0 (API Level 21) and Android 8.0 (API Level 26) are already running this latest feature. This particular innovation allows smartphone users to access and explore applications on the playstore without installing them on devices. With just a tap users can take an exhibit of fast, high performing, beautiful and smooth working applications without worrying about the storage spaces to be occupied.
Google Pay Integrations
Performance flaws were noticed in the google wallet and android pay following which fresh improvements were made to the native payment gateway of android commonly known as google pay in today's date. This traditional payment system across new and existing mobile applications that is destined to have an impactful future. Google pay is secure and an easy payment gateway for android users to pay for inapp and tap to pay purchases. Payment methods such as a credit card or paypal attached to their google accounts can simultaneously pay for other mobile for any other mobile purchase without fuss. The integration of google pay with any pre existing android app is a trend everyone is waiting to see anxiously.
Chatbot Android Apps
Any business enthusiast or techie will surely tell you how important an era chatbots shall dictate in the days to come ahead. Any industry or business which relies heavily on messaging and frequent communication with clients will always be looking to harness the power of chatbots to the ensure the maximum out of their functionality and have a better sales experience. More than that chatbots will seek a close reliance with social media and that is the next go to thing people look forward for. Crucial services that require very less effort like booking hotel room or managing a queue are in line to implement to harness chatbot using custom android development models. Such distinct features can always lead to seamless integration of their business needs.
Dawn of the Kotlin Era
The new language Kotlin is the perfect fit for developing applications that constitute to a wonderful experience for Kotlin to be a official programming language for Android. The new language seems to be the perfect fit for applications that demand a standout experience at the users end. All features of the modern programming language are swiftly combined with Kotlin while the development extensions of android imply that developers can fully stretch their strengths to build feature rich and crisp running applications. As for any android application development project, the corresponding company shall need to adopt kotlin for its custom codes.
Improved Security
Improved features of the android operating system have already thrilled by the exciting features and its smooth sailing app development and deployment experience. Approximately 700000 applications were ousted from google play store in 2017 itself for various reasons and google will be keen on maintain its surveillance standards. Above this the API integration required for crafting such applications which will help google spot these applications which do not even deserve a single installation. All of this simply means that android developers will have to ensure better records in developing safe and secure applications in order to develop secure and robust mobile applications.

Increase of on Demand Native Apps

Android applications are reputed for getting a load of work done in a span of very less time. This trends ensures that android developers with android tech support will be spending more time on finding solutions to genuine problems like booking a taxi booking even facilities, hiring working personnel, requesting food delivery and even hiring android programmers. In short the problem and situation solving capacity of android applications shall pave the demands for more and more android applications.
Blockchain

The evolving trends in technology caused a transition which allowed people to gradually come accustomed with the blockchain method of things. There are lot of disruptors but a majority of the analysis suggests that android will have a huge pull in the industry. Blockchain wallet is a mobile application used to send and receive digital coins has managed to gather over one million downloads in the app store. According to reports there are almost a 21 million blockchain wallet users worldwide in 2017. There are already a thousand blockchain applications in the app store and as industries begin to understand the importance, they will continue to rise. The initiative of using blockchain for developing more viable and secure apps is a trend everyone will choose to keep pace with.
As one of the Top Mobile Application Development Company, we at BrainMobi have developed quite a load of experience in the fields of android application development. Our team of developers and project leaders are keen to undertake any challenge that stands between you and your brilliant mobile application concept. If you have the idea for a mobile application or, kindly write to us at sales@brainmobi.com .
---