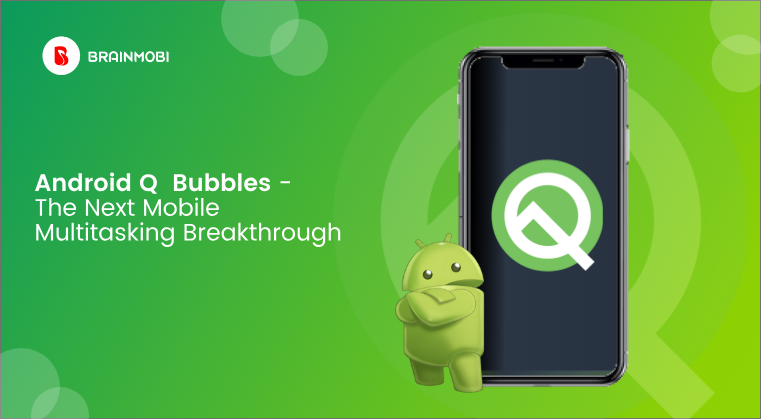 Google revealed a fresh Q feature called Bubbles within its Android Q beta release bundle. Android Q Bubbles is a new implementation that helps multitask and re-engage with apps. It is called Bubbles because of its design which is made it look like floating bubbles on the screen. Besides the intuitive and appealing design, it lets you tap on them to view and interact with different kinds of content, all while keeping intact the primary app or activity which are important for your daily use.
The basic intention of Bubbles in Android Q does not differ from the other bubble implementations we saw in applications few years back. Its presence within Android's native system-level tool is done primarily with the goal to help other apps utilize it easily as well and eliminating the need to come up with their own code, besides creating a consistent, privacy-conscious standard for the interface as part of that.
Bubbles within Android is designed to create lot of time-saving, experience-enhancing possibilities in terms of your daily application usage. Your favorite messaging apps which bring to you frequent notifications, be it a simple talking/texting apps or Slack-like collaboration tools that could give you the option to receive certain incoming messages as bubbles which makes it easier to interact from within a mobile screen without letting you have to compromise much with the operations of your actual app and stop whatever important might be going on in your device. This can be acheived with the best React Native Application development features.
Based on the operations of other applications around you Bubbles can let you manually pop out any non static conversation after which you can place the bubbles anywhere you want on your screen which can help you maintain a fast, easy and ergonomically optimal way to open it up and interact with them as per your various needs and requirements using an efficient team of dedicated developers.
Besides applications, the Bubbles system could also be used to provide quick access to in app utilities like the calculator, stopwatch or lets say a Google Keep note within which you are maintaining a journal besides doing other things on your phone or maybe glancing through a eCommerce website whose wishlist you are looking to update occasionally without the need to keep it open full time. It could be used in similar style to make use of translation tools, task lists, recipes, directions, or almost any essentials.
Obviously, the Bubbles feature is not optimized for every application usage and it does not serve the purpose serve as a standard setup for every kind of notification or action within your phone. Google keeps a note of the fact that bubbles should be used only for things that are important enough to require ongoing access with respect to your daily requirements or whenever a user explicitly requires a feature to open up in the environment. Hence it provides us a way for any user to opt-out of using bubbles at any point of time and any specific area, so that you are never compelled to use any feature in within the department. Subtle development capability of Flutter helps you achieve it.
But in the correct scenario, the Android Q's Bubbles system could lay the groundwork for a form of multitasking that blend very well within the smartphone realm and is an essential way of interacting with multiple apps simultaneously without having experience the desktop-like idea of splitting your screen in half in order to focus on multiple things which isnt practical for the small mobile screen version of things especially in the absence of proper backend development procedures.
Android Q Bubbles gives developers tons of opportunity to implement its features with the applications and is capable of changing the ways in which an application interacts with a user.
As one of top android app development company, we at BrainMobi look to implement the most updated trends of this segment for your applications. Our team of developers are well updated with the latest trends in the business and have mastered the ins and outs in order to deliver it to the best standards of accuracy. If you have the idea for a mobile or web application, feel free to write to us at sales@brainmobi.com .
---