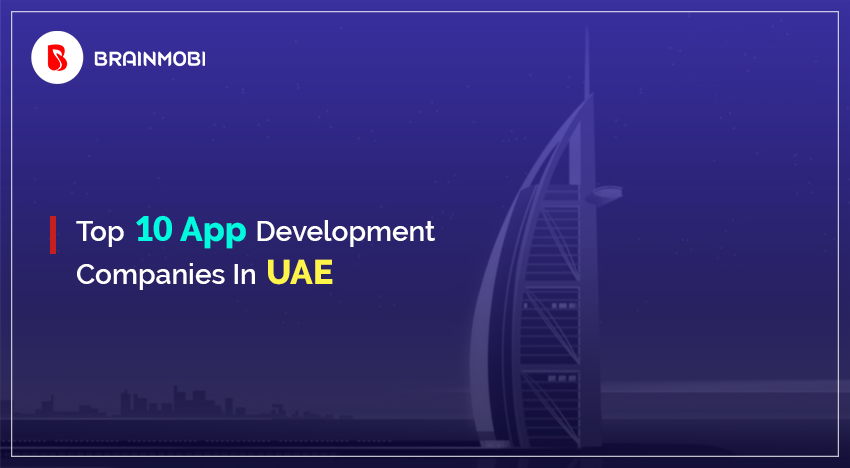 UAE has always been a growing hot bed of business and growing entrepreneurs even before the technological revolution and now after the technological revolution it is evident to have grown as well. In such a scenario it is evident that they must be requiring a lot of app development services and the following list can help you come across the best ones.
Pricing: $15-$25/hr
Employees: 50
Established: 2016
BrainMobi started in 2016, and has been constantly proving itself in delivering the best mobile applications for various business needs belong to several verticals. The best features of this company come up when it comes to meeting the client's requirements and delivering efficiency on time and also updating the latest technologies, best quality management systems, best management of their committed employees.
BrainMobi is capable of providing iOS, Android and Windows operating systems as per the client requirement. They have elaborate expertise in Mobile app development, web development, Enterprises development.
Pricing: $74/hr
Employees: 50 – 249
Established: 2013
FuGenX Technologies, is one of the world's leading Mobile app development companies. It has also expanded to the point that they are now able to provide advanced technical support for artificial intelligence, data science, automations, machine learning, game design and game development. They are reputed when it comes to meeting deadlines for client requirements, foreseeing risks and opportunities. Such top notch accomplishments of this company has bought several premier awards for leading product launches in the digital arena and are highly capable of addressing almost any complex idea.
Pricing: $25 – $49/hr
Employees: 40
Established: 2013
Apphitech has been highly successful when it comes to making successful apps for your app stores. This company has had experiences in developing unique apps that help businesses undertake the best coding measures and then create the best mobile apps. In many senses this company is perfect when it comes to translate dreams of their clients and now they have also become specialized in various AR based apps for retail and advertising industry.
Their work on OS like iOS and Android is highly popular. They are also reputed for Ecommerce development, Mobile app development and Mobile app marketing.
Pricing: $25/hr
Employees: 80
Established: 2015
DeviceBee has a good team of developers, engineers, tech geeks and analysts capable of working and developing various different kinds of innovative apps, business plans and websites in UAE specially. This company is proven to be at its best when it comes to satisfying the client's needs to the best. All the projects are handled by a combination of skilled and experienced designers and developers who have undertaken several endeavours in the department. The way this company handles their clients is really noted and they conduct it in a very supporting manner.
Pricing: $25/hr
Employees: 70+
Established: 2015
It is well known for having various experienced and skilled developers, testers, and designers. It specializes in developing both mobile and web apps. It is capable of meeting several business demands be it rising startups or even establishing major businesses. It has the record for serving almost 300+ clients since its establishment in 2007. Various effective strategies have been developed by their expert team and are the primary assets of this company. It works on iOS and Android platforms and works for CMS development for major platforms as well besides Mobile app development, Ecommerce development, and custom software development.
Pricing: $30/hr
Employees: 60+
Established: 2017
Approxen has quickly risen in terms of emergence and has grabbed its place amongst the top best mobile app development companies by its various customizable solutions for various business needs of the clients when it comes to serving the best for raising the revenue of the clients products. With constantly evolving change in needs of the client, the respective technical support and solutions need to evolve as well, Approxen is very detrimental when it comes to this. Apporxen is known for its elaborate client services and its extended communication tactics help fetch the best execution strategies for thus making it advantage to the end users.
Pricing: $20/hr
Employees: 60+
Established: 2018
Mautilus has a reputation for developing mobile apps for various OS and Devices. This company has served various clients all across the globe and serves best when it comes to satisfying various client requirements. The Various programmers who are working for this company are committed to deliver the best services to their clients. It is also expanding its wings for IoT, SmartHome, Virtual Reality and Augmented Reality.
It serves for Ecommerce Development, Apple watch app development, Mobile app development, UI/UX designs and also developers applications for both iOS and Android.
Pricing: $24/hr
Employees: 80+
Established: 2016
DowApps has been serving the mobile app development market since 2011. It has got the record of meeting the various business demands of a staggering 1500+ clients. Its team of skilled mobile app developers are regarded for their dynamic and effective technologies strategies which are capable of delivering quality with record time . Developers are always updated with the latest technologies when it comes to meeting the latest demands of their clients. Also, the employees in this company are known for their effective communication, unique strategies, smart products and cost effective services for the various technologies they dictate.
Pricing: $30/hr
Employees: 30+
Established: 2015
iChanical is well known for the development of mobile apps which can perfectly fit into the various business needs of the various clients. The best part that remains is that they can develop applications for any platform, native or web based, backend development etc as per the client requirement. Their offices are extended to UAE and Australia with a team of experienced and constantly updated developers who are constantly working on creating unique and innovative apps for their clients. They work on several mobile app platforms like Hybrid, Android and iOS. They serve for Branding, Web design, mobile app development, big data analysis and even Web app development.

Pricing: $30/hr
Employees: 90+
Established: 2014
Traffic is a fast growing company with its offices at almost 4 places with 90+ staff in each. It is best recognized for delivering various professional and different online business solutions to their clients who range on a varied scale. They emphasize more on developing the applications which creatively fit best as per the client requirement be it hybrid applications or native applications. They also serve as advertising channels, search channels, mobiles, social content, web contents for technology and technology related business partners. The highly talented technologists and marketers are now working globally for various big brands of the globe.
---