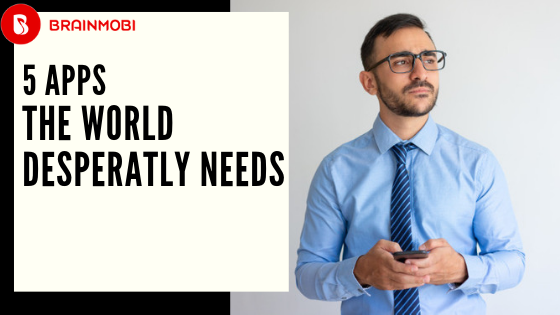 Post WWDC 2018, Google I/O 2018 and most of all Facebook cum Cambridge Analytica scandal it is obvious that technology is definitely the subject of revolution in today's date. Be it background powers like IoT, Big Data, Cloud Services or applications like AI, VR, AR, Lens, etc, Technology is capable of delivering every possible solution to make your everyday life proactive to the latest, hassle-free and secure to the maximum bit. As one of the top mobile application development companies, we have an over the top experience of working with products on similar lines and have a clear understanding of what kind of applications will emerge in the future. Let us share our anticipations and outline 5 mobile apps that are very much possible and also a potential requirement of the masses.

1. Security Paparazzi Application
As easy, quick and optimized it is to share, host and document photographs over the internet, it is as easy to exploit such services which could be a hazard to the personal life of almost anyone. Google I/O 2018 made us all witness a feature where your system shall be able to fetch out a set of images that has the concerned person within the frame. Besides this facial recognition as a secure medium and access feature is already reached an industry standard. This is totally possible because facial recognition has reached efficient and quality standards in the first place. 

If that is the case then why can't the same technology be used to imply ownership of your own face which is a crucial part of your identity?

Why cant technology grant ownership of your facial identity by not letting it owned by anyone else who misuse it for any purpose whatsoever?

The simple crux lies in the fact that if google's technology is capable of detecting particular faces and isolate them for easy sharing, the same piece of technology is also capable of isolating and deleting them from the control of someone who is not you.

As much independence, our social profiles provide, from an ethical point of view it is totally a valid point that you are the owner of your facial identity and no one else.

Implications of FaceAPP should let you have a better insight into this idea.
2. Applications With Better Mathematical Tools
Google I/O 2018 was also a demonstration of how smart the lens can get when it comes to taking inputs in real-time. This is related to taking language inputs written on paper and converting it into strings for the comprehension of the systems. While extensive research is being carried out to optimize this feature for almost every possible language, it should also be noted that the computing system is still alien to traditional mathematical language which has been the subject of research since the day mathematics ever existed. Considering the speed and accuracy features computer systems are capable of, it would be a great lift if the same lens feature could identity mathematical statements to its understanding. With enhanced machine learning features it seems exactly the correct point of time to execute such a functionality. At its lowest, it could simply help kids and teachers conduct a faster teaching process at least.

3. Applications With Better Music Tools
If mathematics can be a language of the requirement for a computer system then it must also be known that music is also a very old acclaimed language created by humans that have its origin on paper only. While the lens is able to grasp communicative languages like English which have a far difficult manuscript on paper, staff notations seem far much simpler to comprehend and process as per the current standards. This is heavily going to assist music learning and boost the processes of music schools and institutes who shall have more reliable methods pertaining to security and might help human personnel to be employed in better sectors.
Meanwhile, we have to totally keep in mind that the smartphone is not just an extension of the iPod that just played songs for you. It has an operating system connected to the internet and other systems which can actually produce a musical note for you as well. So it won't be far the day when AI shall be made to read music as well.

4. Applications With Better ProActive Food Apps
While all the art of cooking and producing taste shall always be vested in the hands of humans, AI can fill the gap and recognize our preferences amongst an ocean of choices and help us eat better. Lensed with great machine learning features your custom food app can record your habits and unburden you with the responsibility of making a choice and performing daily chores. Whether it is quick scheduling or letting the system know your preferences of taste, food applications shall be able to make much better and precise searches and deliver the best results which otherwise takes a good deal of focus, attention and time. Taking of massive connectivity and smart integrations, it is a total possibility that your fitness inputs fetched from your smartwatch might help nutrition analysts serve your healthier choices. And that is something every proactive fitness freak would crave for.

5. Unlike-Anything- Ever-Seen-Before Fitness Applications
Smart Watches and fitness watches are not just notification devices but are capable of taking valuable input which was never possible before this. This includes your pulse and heartbeats at your healthiest and dormant periods of time. Such data can help analysts mark the best routines and figure out any irregularities that might be a potential cause for future problems. More importantly, it is to be noted that such data was not maintained before and the corresponding empirical conclusions coming as a result of the research will be the first of its kind. The fitness practices coming as a result of that will be smarter and fairly accurate. 

As one of the top mobile application development company we at BrainMobi have a very clear understanding of the kind of technologies that shall emerge and the corresponding verticals it shall be applied too. We can help sketch out the most updated versions of such applications that shall always be a step ahead of the current ones. This will always be beneficial for your business and enterprise.
---