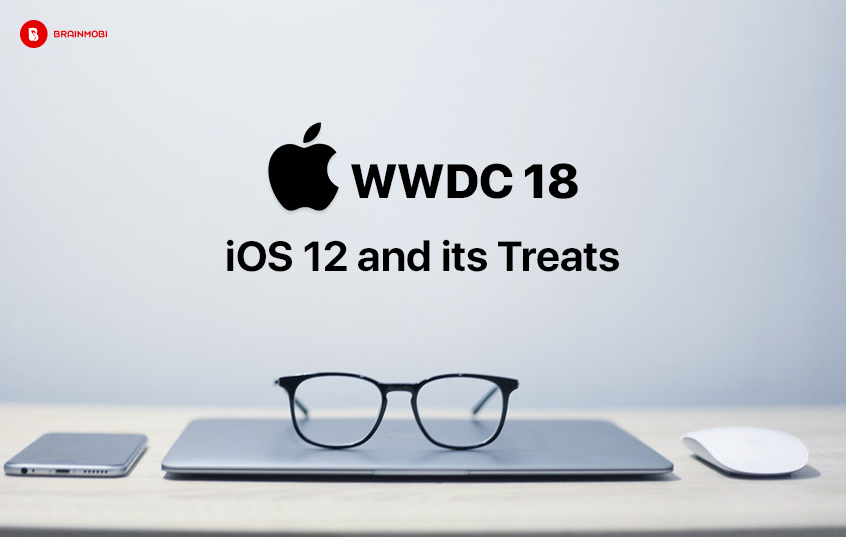 Let's hope the tempting google i/o 2018 kept your appetites for technology still on the high as Apple's WWDC 2018 had some equally explosive elements which leave in an ocean of choices if you are a technology aspirant. Apple's new iOS was the primary showcase of WWDC 2018 and had some beneficial clues as to the standards and demands mobile apps are going to have in the upcoming future. As one of the top ios app development company let us expand to you the fate of the mobile app ecosystem post WWDC 2018 and what sensible steps you should take when going forward with your iOS mobile application development project.
Performance Boosts
Apple's latest iOS 12 will deliver iphone users (and even as old as iphone 5 users) a significant gain in the speed as applications shall run 40% faster than the initial speed. Minor but nevertheless important factors like accessing the keyboard too consumes a significant portion of your processor and iOS 12 can now speed up that too by a 50% factor. Apps which make use of the camera as well shall receive a 70% boost in the speed. All of these speed boosts could be a major encouragement for those looking to deliver their mobile application experience via an iPhone and more importantly this shall keep old apple device users in the league as well.
Some of them look like Android P
By no way does this mean apple is trying to adopt the google philosophy as it would be kinda impossible to deliver a feature whose first inspiration took life barely a month ago. But it seems digital well being is the concern for apple as well as the latest iOS 12 is looking so solve your habits of hopelessly staying hooked to your device. iOS 12 shall be able to generate weekly reports of your application usage, notifications received and also how often you pick up your phone or even receive a call. Its Do Not Disturb feature not only isolates you from your device during the night but also helps you curb down the clutter of notifications as it is generally the first thing you see in the morning.
Parental Controls showcase the concern apple has for guardians of less mature iphone users. Parents can now be able to schedule and limit the iphone usage of their children and also monitor a weekly report of its usage.
Talking of children:
Memoji
While a typical smiley evolved into an emoji which in turn involved into an animoji. This wwdc 2018 saw the animoji evolve into the memoji which gives the imessage its real stand out from a normal message which non apple users send to other non apple users. A memoji is similar to an animoji except that apple's AR interface will now let you customize the animoji from a wide range of customizable choices which can make it look similar to you. It's great in terms of replicating your emotions and accurate to the point that it even detect a pull out of your tongue.

Siri
On the first impression, it is definitely google's duplex and Amazons Alexa might look more appealing in terms of a human touch but Apple surely has a different method of improving its voice assistant AI. Siri will now be able to take custom command inputs which will perform certain important functions you require your iphone to perform. Another way of interpreting this could be to figure out an easier and concise language to prepare better AI for the purpose of information exchange and not just replicating human empathy.
Apple Photos
This takes a new shape in the form of a tab that goes by "For you". In Case you thought google's feature of sorting pictures using face tracking was a super convenient feature compelling enough to carry a device switch then you are wrong. Apple too has a brilliant photo documenting application that suggests sharing photos with the people judging from the frames you captured them in. Also its improved search methods and real time self indexing feature can help you categorize pictures based on events, places and people.
Security and Privacy
Post Cambridge Analytica scandal users have grown conscious and prone to take every possible measure to protect their intimate facebook data which although has no absolute significance to your real life profiles. Despite of that Apple has demonstrated some smart attempts to improve the privacy and security of user data using iOS 12. Safari shall now stop any attempt by facebook to track your activity down and more than that facebook shall face the blow of not being able to display advertisements to apple users post September 2018.
As one of the top mobile application development company we at BrainMobi, keep a close and keen eye on the latest happenings in the world of technology. We can anticipate the future and relevance of your mobile app better than you in terms of technology and can always present a step ahead solution amongst your competitors. If you have the idea for a mobile app, kindly write to us at sales@brainmobi.com .
---