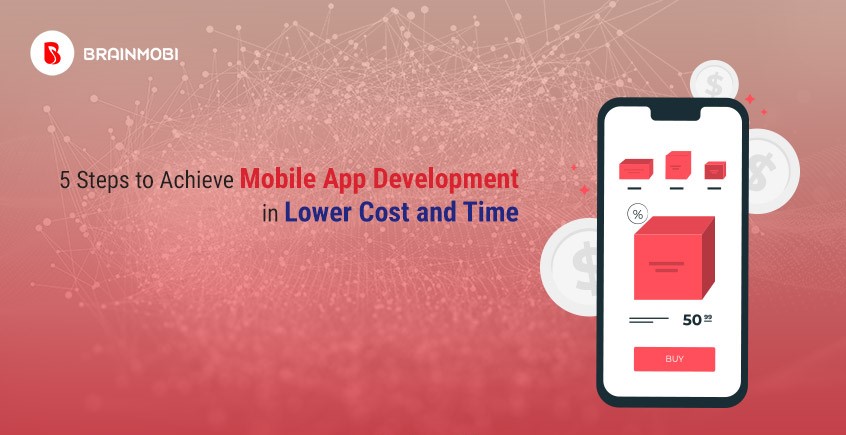 In the past five years, we have seen plenty of consumers switching from web applications to mobile applications because of their ease of accessibility at any point of time and anywhere. As a result, plenty of businesses are looking towards developing mobile phone applications in order to achieve an increase in business exposure and build customer loyalty while building a stronger brand sense.
Mobile Applications enable customers to interact with the personal space of the brand and is quite worth the investment but, it is the thought of an exorbitant application development cost that often deters to the company and person behind implementing the project.

The mobile application development cost was never meant to be excessive and thanks to specific measures that can be taken to reduce unnecessary development costs. Mobile applications enable customers to interact with brands in a personal space and can significantly contribute to enhancing the brand value because it totally is worth the investment. 

As one of the top mobile application development companies, we at BrainMobi can help you achieve ways that can prove significant in reducing mobile application costs as discussed below:
1) Strategic Planning Of Your App Development


Mobile Application is dedicated towards providing the customer with the best user experience but with the upcoming complexity of the process, it is often required to undergo several iterations and modifications in order to achieve perfection in what you are trying to accomplish and each change adds to the increase of the app development cost.
It is totally natural to have various ideas on how to enhance customer interaction with the application.Brainstorming with the experienced personnel of the team and the initial stages and can sideline the pros and cons of various factors and help make the best minimal version of the application which can help you outline features in order to deliver a better user experience for customers hence contributing to cost reduction.
2) Outsource the Development task

High cost directly translates to the amount of attention and time it is needed when considering a development task and developers themselves hire application developers so that they can do things that can help them earn more money. This has led to the formation of many companies in third world nations like Nigeria, Ghana, and India which define themselves by doing the labor of other people for lower cost and more importantly without claiming much of credit for what they do.
This is the most preferred way of getting your application development in the cheapest of costs and resources. There are plenty of companies in Noida alone that can help you achieve the task and fall into the category of best mobile application development company as well. 
3) Utilize Latest Technologies

Mobile application development strategies are ever-evolving and the development techniques of today might be more efficient and time-saving as compared to those used 5 years back. Latest cross-platform app development companies are able to deliver the exact quality of iOS and Android and after react native.
Flutter is also one of those promising frameworks which not only help you accomplish development projects with great speed and smoothness but also give you plenty of relevant choices when it comes to scaling your application and integrating it to other devices and platforms as well. 

4) Testing Smartly

It is total suicide when it comes to launching your application without incorporating proper testing methods. Hence it is essential to realize the importance of the effort and make necessary plans since it cannot be ignored.
Testing techniques when implemented properly and in quick successions can help you achieve efficiency as well as sort it out quickly. Inexperienced testers can make the testing process of the code equivalent to the coding process and it simply adds to the delay of the application launch and unnecessary cost of the efforts that have been put in.

5) Smartest Version of the MVP

The MVP of your enterprise idea is quite determined when it comes to the success of your application. Smart project creators shall sketch the smartest version of the application which can be incorporated the things that bring out the best of your application instead of having unnecessary things.
These unnecessary things amount to unnecessary time and can help you add a significant bit to the cost of the overall development process. You should actually determine the credibility of an application development company by the kind of MVP they suggest and how they propose to take it to total completion. 

Conclusion

Having established the pointers we would like to conclude that the above mentioned are the steps to decrease the mobile application development costs. By following all these major steps, one can reduce the mobile app development cost at the time of building mobile application whether their business or startup to increase the productivity of their organization.


As one of the top mobile application development company, we at BrainMobi have taken several successful endeavors in the field of mobile and web application development. Our corresponding experiences with various industry verticals and organizations enable us to analyze the pros and cons of every different kind of application and aim to deliver the best out of it to every client we cater.

---