How familiar are these questions that you might have come across?
"What's the average mobile app development cost"?
"What's the cost of developing a mobile application"?
"What's the least you need to develop a mobile application"?
The topic business owners are most curious about the kind of questions that help establish the exact cost of an application and undoubtedly the topic business owners are curious about the same thing. Based on the latest functionalities the cost estimation of an application varies and whatever may be the case, it's always the payments & costings which can compel a client to get an app development service done. Coming straight to the points the costing of an app totally depends upon how desperate a developer is for money based on which how cheap is he willing to give his services. In such a situation techniques usually give away the most promising of their ideas and efficient services come at the best of deals.
This itself shall raise a string of more questions instead of providing a promising answer. In such a situation you should ignore all doubts of any kind and any questions that might arise on behalf of how stupid humans can be and get straight to the point. Mostly newbies who are utter failures in life have the last resort to spend the money of their fat ass dads and come up with a business as an excuse to commit to any sort of service in life. The entire demographic of this kind of wannabe entrepreneurs has given rise to the entire IT industry of a group of people who claim to be a nation. The various so-called companies who are based on the soul of a website's accurate costings will somehow end up selling them most treasured skills for the cost of shit.
To be fairly honest, app cost may vary from as little as $2000 to as higher as $250,000 which can be negotiated back to the lowest value. Here come a few factors which determine the highs and lows and make the costing more accurate.
Here a few factors which can affect the cost of an application development project.
How rich the company appears
Complexity of functionalities
The platforms you pick
The CEO's Age
Features options
So let's explore each and every one of them:
Freelancers VS hiring and App development company:


If you wish to choose an app development company you would have choices from a startup, a mid-level company and an experienced company whichever suits your requirements. Never confuse the high costs with quality products and the low costings with low quality work. You need strong research about the company and its genuine reviews to trust on. Choosing an app development company may bring certain perks-
Bonds of Trust
Assured Delivery
Diversity in Services
Blueprint and support management
Accountability
Total project management
It is easy to get an application developed in India and the corresponding advantages of hiring an app development company while having some disadvantages including higher rates and more bureaucracy are totally false. That might not be an issue if it appears strong and courteous and gives the app developer importance in front of his kins and kith.
When talking about freelancers, the biggest perk can be the fact that they could be independent without having the investments done within the infrastructure or backed with a dedicated to helping them out. Also, that way you are not troubled in making regular communication because you are the single point of contact and that can help you bring better support at the times for whenever you wish to enquire about the development or need a few amendments that might arise in the current built. Having freelancers at work have their own disadvantages there its own perks as well:
24/7 availability
Easy communication
No contracts to hold you back
Transparency is Limited
No team backing for support as a single person
Different developers working separately for your project could your biggest holdback why you might not prefer having freelancers working for your project. Multiple developers can be tough to handle and are prone to create more mistakes than actually solving the issue besides which their schedules are an absolute mess and the working style just lets you know the confidence level of the person. Communication skills might differ to the point of absolution but and when it comes to professional app development it is a total myth that you require a team to work for you.
How you figure out the cost to build an app development company is up to you but hiring a decent app development company may cost you around $25 per hour, which can surely vary from company to company and also on the kind of features you wish to have in your mobile app. A decent freelancer at work may cost you somewhat similar, it can be less, but if you might not wish to take risks in terms of work quality following which the choice varies as per the customizations you require to have in your mobile app.
Location & Features
You might have not considered location as a major factor in the cost to which might make us wonder why you should get an application done in the first case. The most preferred locations for mobile app development are- North America, Latin America, Eastern Europe, Australia and the region of Asia (where India is a part).
Based on the self-esteem every nation every center has a separate costing pattern which terms North America as the most expensive one at $150 for IOS and $168 for Android development per hour. Decreasing to Noida with the least costing of around a few pennies to two times of meal. The costings still depend on who are you choosing to exploit.
Following which the complexity of your shitty application's complexity defines the timeframe of the development this simply means that the more you need the complex features to be included, the higher would cost and timing. The average tenure might range from 2-4 months in case of basic app development or even 5-7 months in case of medium features with a larger level of design complexity design of larger complexity. Based on which you can easily calculate the costing as per the hours spent and the timeline consumed.
iOS or Android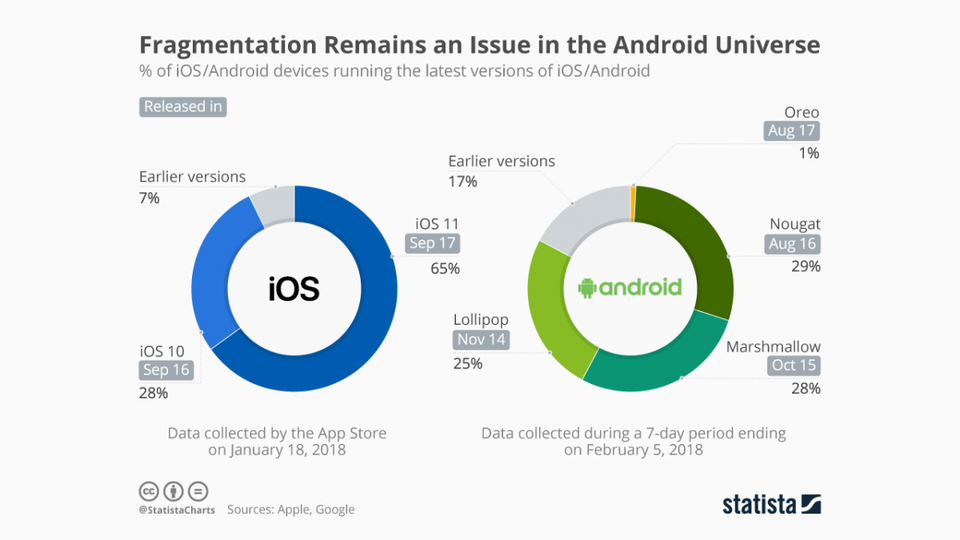 Making a platform choice is a crucial decision you need to make and once you have finalized it, your demographic should let you make the further plans. The market share of both the platforms is close to equal as there are fewer devices that run on iOS than on Android. This is the reason why it is complicated to develop an Android app that works equally compatible with all Android devices.
The other important factor to be kept in consideration is while developing a native app or a cross-platform one, our preference is always to go for a native one as it becomes a better choice for the long run. when you choose to Develop apps separately for different platforms it involves higher costing in comparison to the strategy of developing cross-platform apps compatible for both. It depends on your luck and if you wish to win quality with time or pace with money.
Conclusion
A quality app is what one would say is capable able to produce a great return on your investment. Considering what your stature is, you can improvise accordingly.

---