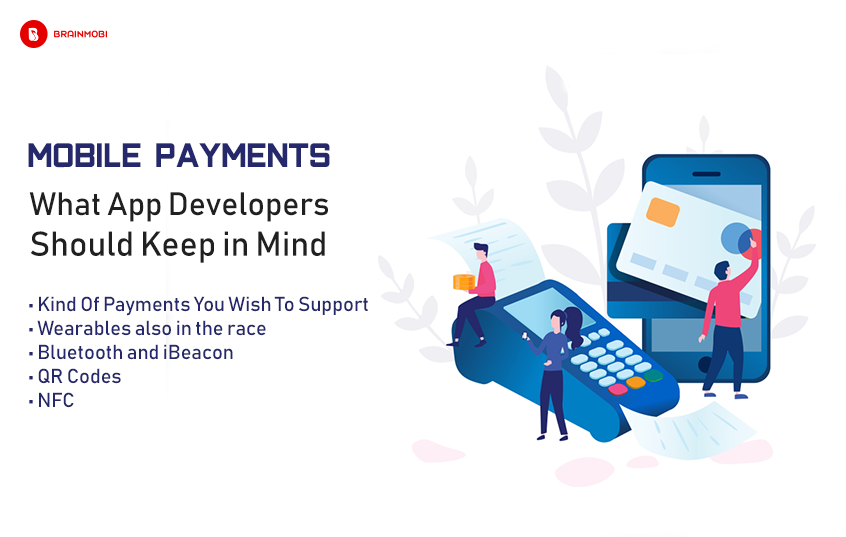 Considering the kind of business project you are planning to undertake, your mobile application can be of various types be it storing or something as versatile as using loyalty card/coupons. Or even go ahead towards building a more advanced custom solution that would also allow customers to pay for goods, conduct P2P payments and so on. Hence when you are planning to create an app it is really important to outline the kind of mobile solutions you are trying to craft to be able to incorporate the payments gateway in the most flexible possible manner.
As per statista, this following estimate of data is sure to captivate your interest in regard to implementing mobile payments into your applications
Total Transaction Value in the Digital Payments segment amounts to US$3,403,168m in 2018.

Total Transaction Value is expected to show an annual growth rate (CAGR 2018-2022) of 13.9% resulting in the total amount of US$5,728,699m by 2022.

The market's largest segment is Digital Commerce with a total transaction value of US$2,875,507m in 2018.
Being one of the top mobile app development company, we at BrainMobi are keen to explain the growth of payments app and how it shall benefit the developers.
Kind Of Payments You Wish To Support
Modern smartphones are equipped with plenty of features that can come to the advantage of any mobile application developer. Some of which being Bluetooth, camera, a location determining GPS modules, fingerprinting scanning authentication. All of these can be readily combined with any online commerce payment or Mobile P2P transfers. Payment app Venmo is reported to have spent over $1 Billion in January 2016 alone. ClearXchange also offers instant money transfer services which is a joint venture with many banks. Such instances can come in real handy when it comes to mobile wallet app development.
NFC
Near Field Communication protocol enables contactless and secure between a NFC enabled smartphone and a transmitter attached to a POS device. The corresponding user has their card information stored in digital form within the mobile wallet of their device. In the case of information being retrieved from the cloud, the device makes use of the Host Card Emulation which was largely adopted by google to give pace to their android services. When a payment takes place the consumers information form their device and sends it to the nearest payment terminal via the NFC. Apple too incorporated this system first with the launch of iPhone 6, which however is limited to the Apple Pay platforms only.
Bluetooth and iBeacon

iBeacon stands as a great alternative to send proximity oriented information that too without relying on an internet connection. Any smartphone equipped with Bluetooth 4.0 can effectively communicate with an external BLE transmitter popularly called the Beacon. Following the users consent, an iBeacon-enabled POS can easily retrieve information which can be made visible on the clerk's POS terminal. This also helps you to offer indoor navigation which is implemented in enhancing customer experience with real time recommendations incase within the spot. Integrating payments with these systems can help eCommerce merchants.

QR Codes
QR codes were conceptualized to be the more simpler alternative to NFC and have been implemented by several mobile payment app development companies. For example Starbuck's Mobile Wallet app accounts for 21% of all transactions in the US alone. It consists of a procedure which allows all customers to link their payment methods and encrypt them into a secure QR code which can be stored in the cloud and used at the time of checkout. Notable application Levelup also supports QR payments for its registered users along with iBeacon and NFC systems.

Wearables also in the race
Any Mobile app development company have a lucrative opportunity in the form of wearables lying ahead of them. The wearable market is steadily growing and is expected to hit $19 billion by the end of 2018. With the kind of UX features apple smartwatch is capable of delivering, the payments will surely be a thing they would want to incorporate. Square is the popular credit card processor provider which has launched a mobile payment app for Apple Watch that goes by the name of cash using which users can send and receive personal and business payments through their smart watch. All this will at the same time being perform a quick payment.
As one of the top eCommerce app development company, we at BrainMobi have taken several successful endeavours in the field of eCommerce. Our various practices ranging from a wide variety of clients from all across the globe allows us to incorporate various business friendly functionalities. Our team of developers and project leaders are always keen to deliver the most top notch services which shall be a step ahead of what the market can deliver. If you have the idea of a mobile or web application, kindly write to us at sales@brainmobi.com .
---