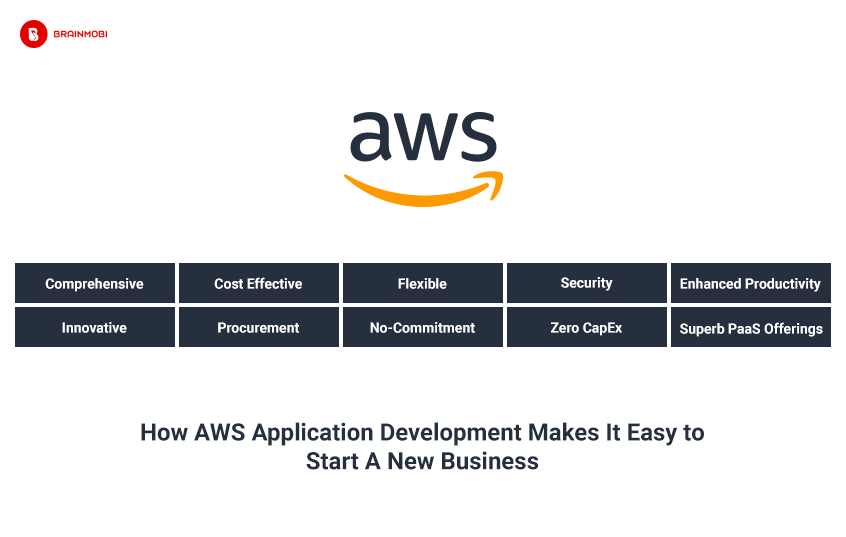 A recent survey conducted by IDG Enterprise suggested that Cloud technology is becoming an enterprise for almost any organization with approximately 70% companies having one application dedicated to the cloud. While there must be several options available to serve your cloud needs but the one that remains top notch in terms of this is AWS. Some of the biggest organizations like Adobe, Comcast, PBS, Netflix totally owe its strength to its services. As one of the Top Cloud Application Development Company, we at BrainMobi have listed down some of the best advantages that can help you manage your applications best to the cloud.
Comprehensive
It is simple to transition from any onsite storage with AWS as a result of the training and expertise they inherit. The Cloud powerhouse offers a wealth of knowledge to website, including the requisite documentation and tutorials for kick starting their AWS services and more. AWS also has a partner network consisting of plenty of professional firms assisting in customer design, architect, build, migrate, and managing their workloads and applications of AWS.

Cost Effective
Any startup or large enterprise company, it shall be of utmost importance to leverage the services of your business at any given point of time. AWS has a competitive pricing that has a fraction of the cost on that on-premises solutions cost. Beyond this you can compare the cost of running your applications in an on-premises or collocation environment to AWS using several tools.
Flexible
Be it a first time cloud user or incase migrating from another cloud service, AWS is equipped with all the resources you need to manage your I.T infrastructure. Their model supports some brilliant scaling features both up and down the slope which implies the fact that your business does not worry with any issues regarding the capacity or as and when needs might fluctuate.
Security
Large volumes of data is a crucial and always prone to security hacks and security from such threats is always a huge priority for a label like AWS. It also has tied to its name the various well-recognized compliance certifications and adhere to all privacy laws dictated by important bodies from across the world. Reputed organizations like Nasdaq, Dow Jones and Healthcare.gov too rely on the services of AWS which symptomatic of how reliable the services of AWS.
Enhanced Productivity
With AWS getting to support your Cloud Computing helps in removing responsibilities and risks associated with housing internal I.T infrastructure. This also reduces the need for more I.T support and helps save time and money for a longer term of the organization.
Innovative
One of Amazon's prime brand objective is their dedication to innovation which they regard to as one of the prime factors towards getting their customers. While pricing wars with Google and Microsoft are always on the up, it is yet to hinder any innovative scales of amazon. AWS re:invent Conference held year saw the AWS launching roundabout 1000 new services last year.
Procurement

Based on factors like premise, co-location and volume any hosting provider can take upto 8-10 days when it comes to the procurement of a new server. After this procurement of any particular software license can take further separate time. AWS comes to the rescue of this solution by enabling you to spin-up new servers within few minutes without any need to buy seperate license for any operating systems or softwares.

No-Commitment
AWS can offer a wide variety of options with absolutely no-commitment at all. This includes versatile options ranging from hosting a server for a small website, a content delivery network for sites demanding heavy traffic or a hadoop cluster for your big data needs. Any server backed service is charged on an hourly basis which helps you to stop any server service beyond which you won't be charged for that particular time period.
Zero CapEx
It is a total misconception that any AWS or any similar cloud services belong to the bigger pockets. AWS has emerged as a field leveler via which emerging companies and startups can avail high end cloud infrastructure and infrastructure with ZERO CapEx. Before this any small scale organization or startup had to make a major investment decision with Oracle in regard to commercial software and demanding high-upfront licensing cost. AWS lets them access similar benefits in an hourly priced model without any upfront cost.
Superb PaaS Offerings
AWS has offers some highly scalable managed services for database, caching, data-warehousing, transcoding, storage, infrastructure and application management which saves crucial time and effort in setting up and managing the infrastructure. This at the end helps in decreasing the go-to-market for cycle for end-customers.

As one of the best AWS Application Development Company, we at BrainMobi have taken several successful endeavours in the field of AWS application development. Our team of AWS certified clients and corresponding team leads can look into the depth of any problem standing between you and your mobile application. If you have the idea for a mobile application, kindly write to us at sales@brainmobi.com .
---