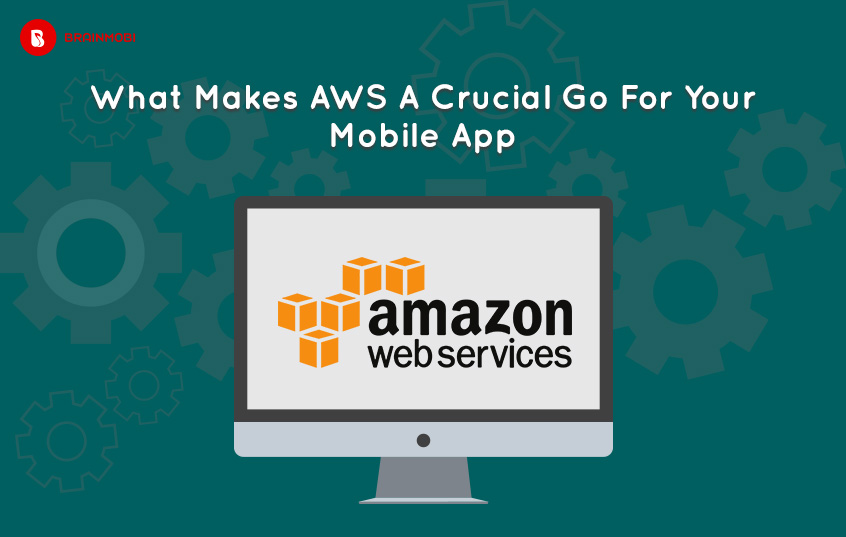 Amazon commands over 44% of the global market share of cloud computing platforms and that is more than Microsoft's Azure, Alibaba, Rackspace and Google Cloud combined. As of 2017 they have generated around 177 Billion dollars in revenue. The tech industry slowly realized the possibility of scaling a product to as many users as possible. AWS takes that scale to humungus levels and have eliminated the liabilities of servers, cables, hard drives and power supplies.
AWS has completely given rise to new experiences on the internet to the point that entire industries are dependent on it. Any top mobile app company should realize it. Let us consider a few factors

4G and 5G Makes Sense Thanks to AWS Based Applications

Super fast internet services have a great demand because there are certain applications that demand it. Netflix, Amazon Prime, Hotstar and almost any media streaming application is the great experience of having access to superfast internet services. The reason why Netflix, Amazon Prime, Hotstar and almost any media streaming application is capable of streaming billion hours of movies to million users at any point of the time thanks to AWS.
So if your application serves anything that can operate without the use of AWS, in terms of internet experience it shall seem like using a cannon to kill a chicken which could otherwise be used to create bigger explosions.

Can AWS Make My Food App Smarter?

German Food discovery food app that goes by the name of Lieferando is conceptualizing Artificial Intelligence to help connect foodies to their desired taste. This possible because of extensive data collection which the system shall use for its algorithms. Considering the number of cafes and dishes present which in turn need to be operated by the number of food explorers, it easily seems like a huge amount of data already. Also what google i/o 2018 delivered was the ability of the system to monitor your habits and help you offer choices based on that. How it would make that smart choice is based on the pre existing amount of data it is connected to. All of these constructions could be lessons in your own food app that shall help you take a step ahead from the other food apps which are basically operated discovery apps.


How Can AWS Benefit For My Next Game App Project?

While Mobile game apps might seem a simple deal in terms of data used, the future of mobile and console games is gonna demand just the opposite. AWS can help attain a smoother connectivity and help deliver a multiplayer experience like no other. On the other hand the gaming experience that shall come with the advent of wearables technologies shall incorporate graphics like never before. Next most challenging thing after Netflix levels streaming shall be hosting console level graphics on the cloud and combined with global connectivity, it could just be the next big thing in the world of gaming.
Other Development Friendly Factors
Ability to launch New Servers mid way during a project
Upscale/Downscale a server
Auto Scaling helps build a good self managing infrastructure
highly scalable managed services for database, caching, data-warehousing, transcoding, storage, backup, infrastructure management & application management
What Are Some Cases That Exhibit The Brilliance Of AWS?
AWS has its clients from approx 190 countries. It serves a million active users everyday that include 5000 educational institutions, 2000 government agencies and 17500 non-profit organizations. Apart from that some well known organizations that hugely rely on the services of AWS are as follows:
Adobe, Airbnb, AOL, Autodesk, BMW, Canon, Citrix, Dow Jones, European Space Agency, General Electric, Hitachi, HTC, IMDb, Johnson & Johnson, Lyft, McDonalds, NASA, NASDAQ OMX, Netflix, Pfizer, Pinterest, Samsung, SAP, Schneider Electric, Siemens, Slack, Sony, Tata Motors, Ubisoft, WeTransfer, Yelp, Zynga and so on.
This should give so much to compare from with the kind of mobile app you are intending to make and what requirements will it dictate keeping in the mind the experience and purpose.
BrainMobi is well versed and experienced with the methods and applications of AWS. As on of the Best AWS Cloud Application Development Company we can help give your app the best solution in terms of cloud. If you have an idea for a mobile app with similar such requirements feel free to mail to us at sales@brainmobi.com .
---