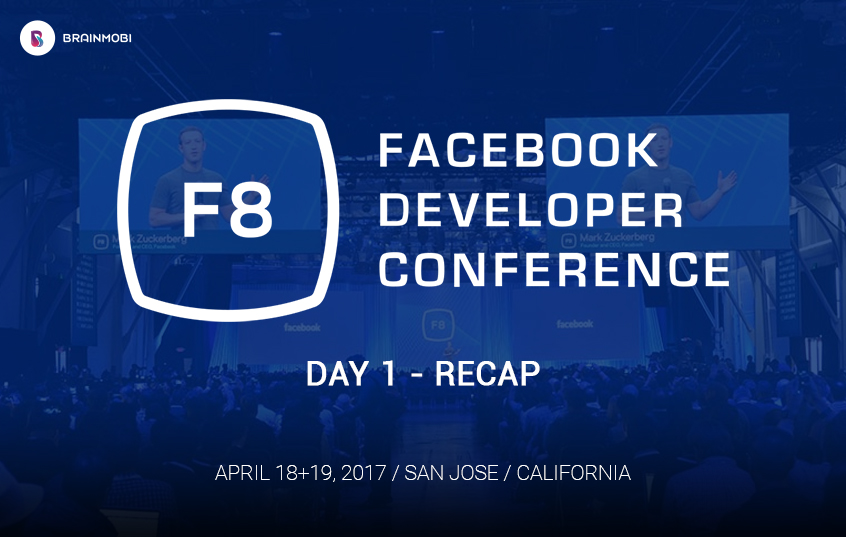 Facebook Developer Conference is the world's biggest gathering where developers and businesses come together to explore the future of technology. The F8 conference is held by Facebook, intended for developers and entrepreneurs who build products and services around mobile apps and website. The name "F8" was originated from Facebook's tradition of 8-hour hackathons. The first F8 event was held on May 24, 2007, at San Francisco Design Centre in San Francisco. This year the keynote event was kick started with more than 4000 attendees at Mcenery Convention Centre, San Jose, California on 18th and 19th April 2017, with a keynote speech by Facebook founder Mark Zuckerberg.
He shared a fun fact that coincidently F8 and recently released movie "Fast and Furious 8" share the same notation. He also mentioned his regret for not being able to bring THE ROCK on the stage to discuss breakthroughs in Artificial Intelligence and Machine Learning. With some striking announcements at the event, Day -1 wrapped up with great enthusiasm among attendees and billions of people tuned in from different online channels. This blog is a recap of some key updates from Day – 1 of Facebook Developers Conference.
F8 2017: Day 1 Opening Notes
AR Studios – Experience the excellence of AR in real time through your camera
The event started as Mark Zuckerberg pointed out his desire to bring "extend the physical world online" and asked the audience "think of how many things in our life don't need to be physical," before using the monitor behind him to detail a world of virtual chess, or watching TV — sounds riveting.
He also pointed out that the Facebook team is rigorously working towards enhancing real time experience by integrating more of Augmented Reality and Virtual Reality across various features.
Using SLAM (simultaneous localization and mapping) technology, Zuckerberg gave a demo of a bowl of cereal with sharks circling the bowl, bobbing up and down through the table as if it were water. It was impressive AR experience and shows just how powerful SLAM is in detecting the most minute of location details and mapping it to add digital incredibility to real-world experiences.
Image Recognition – With Better Features
Facebook CTO, Mike Schroepfer took over the stage next to talk the other highlight feature of the event – Image Recognition. This time the company has upgraded the technology to recognise multiple objects in an image and (mostly) mask them accordingly. And with the help of a technology known as Mask 4-CNN, Facebook can tell the computer (or human) exactly orientation in relation to the scene. Just released last month, Mask 4-CNN gives Facebook to remove an object entirely from an image in near real-time. Schroepfer showed an example video in which he was able to remove a windsurfer entered the scene and display only the ocean behind him.
Facebook Spaces – VR Feature
Head of Social VR, Racheal Franklin took the stage to introduce Facebook's First Social VR App, Spaces. Her commencing words at the Facebook Annual Event were "VR is a naturally social platform, and we're building it with people at the centre". Spaces allows a user to interact virtually with connected people on Facebook. Using Spaces, you can connect with up to 3 people to watch 360 videos together, hold a virtual game night or show off new home to family and friends.
Messenger Platform 2.0 – With Spotify and Apple Music Integration
FaceBook VP of Messaging product closed the keynote event. He revised all the four updates since the release of Messenger and how every update helps people to get more involved with Facebook. For instance, Messenger bot helped many retailers to elevate their business sales rates and customer service. In a new update, both Spotify and Apple music will make a debut for a seamless transition between vividly followed apps. He also put forward his desire to "invest in discovery" to provide users with more comprehensive features.
For more updates, stay tuned with BrainMobi.
The day-2 highlights of Facebook Developer Conference will be shared in our next blog.
---