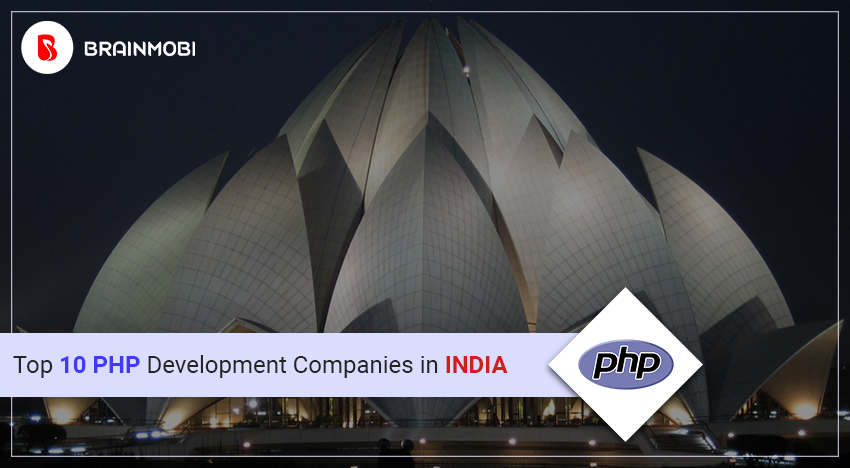 India is a hot bed of budding developers and technology enthusiasts, and PHP is in high demand considering the demands of business in these days and the way in which business is carried out. In such a scenario PHP app development is in quite a craze and it can be fairly difficult to pick the best suited one for your organization. In such a scenario we have compiled a list of some potential PHP companies that can help you accomplish your web development tasks to the fittest:
Hourly Rates: $100 – $149/hr
Location: United States
Employees: 50 – 249
Founded: 2013
BigDrop Inc amongst the top design and development company that specializes in delivering bespoke digital solutions for brands of all sizes.Your applications identity is a reflection of your company and needs to be precisely thought upon and analyzed before putting it up for presentation. The current generation of entrepreneurs revolves around the web and mobile as the primary means to run your business, serving your clients, and communicate the message of your brand all over the world.
Through careful consultations, BigDrop is easy to find out the advantages of your product and whether it is a simple informational or a lavish multimedia site. As a workforce guided by creativity they excel in producing design experiences that entertain, inspire, satisfy and challenge their clients to their patrons. They take pride in enabling their clients market to see the "glow" of your organization and contribute towards increasing prospects from being one-time visitors to religious customers.
Hourly Rates: $16 – $25/hr
Location: United States, India
Employees: 50-100
Founded: 2016
BrainMobi has been assisting companies across plenty of various industries who seek to optimize their business processes through custom software solutions. Alongside a well-coordinated and dedicated team of around 100+ IT professionals, BrainMobi helps serve customers from all across the globe regardless of their domain of operation, geographical location and any organization specificites. BrainMobi addresses the IT needs of companies of all sizes, ranging from startups to large enterprises. Their long list of successful projects comes from the result of the profound expertise in the fields full scale custom software development, commitment in business and trusted communication with their various partners and customers. They have upgraded their knowledge of tech as a result of disciplined and continuous hands-on experience that comes in planning, managing and when it comes to carrying out complex application development for enterprises, support and integration.
Hourly Rates: $25 – $49/hr
Location: United States, United States
Employees: 250 – 999
Founded: 2003
Our services are designed to take your business to the next level, reducing the gap between you and the heights of success you wish to achieve.
Empowered by 12+ years of experience in the field of IT, CIS has the right expertise to help you with all your technology needs. They have consistently delivered plenty of optimal solutions for our wide-range of global client base which have contributed largely when it comes to leveraging rich experience your unique IT requirement deserves.
CIS has managed to establsh itself amongst one of the leading names when it comes to providing exceptional technology solutions and services that adhere to globally recognized standards for latest trends in technology. Through their offerings, CIS intends to help organizations attain their business objectives by helping them drive towards success.
Highly optimized solutions and wide range of services across a wider range of industry domains helps exhibit some of our key services which include application development, open source development, mobile application development, business intelligence and analytics, business process management, cloud infrastructure implementation, front-end design and bits of digital marketing.
Hourly Rates: $50 – $99/hr
Location: United States, United Kingdom
Employees: 250 – 999
Founded: 2007
Intellectsoft is one of the premier boutique digital transformation consultancies with its head office in Palo Alto, California. The company helps provide cutting edge solutions for engineering and its listed amongst global and Fortune 500 companies whose mission is to help enterprises accelerate adoption of new technologies with the market. This also includes the need to untangle complex issues that always emerge during digital evolution, and contributes towards ongoing practices in innovation.
Intellectsoft helps maintain its advanced domain expertise through five dedicated labs which carry out extensive research assignments for the fields of: Cognitive Computing, Decentralized Applications (i.e. Blockchain), Internet-of-Things (IoT), Premier Customer Experience (CX), and Mixed Reality (AR, VR).
Hourly Rates: $25 – $49/hr
Location: India, United Arab Emirates
Employees: 50 – 249
Founded: 2009
Diceus is a global technology partner for high-tech innovations and market-leading products. Since its inception in 2011, Diceus has established multiple offices with the development centers in the USA, Europe and Asia. Diceus is not just a technical team but are also a capable and reliable business partner, when it comes to delivering enterprise-grade solutions to world-class brands and large enterprises.
The dedicated and devoted team of business analysts and developers thrive to work proactively when it comes to finding the new thresholds of value which is required to achieve a particular business goal. This helps us create projects that are able to facilitate the growth of our customers boost revenue.
Hourly Rates: $25 – $49/hr
Location: United States, India
Employees: 250 – 999
Founded: 2011
Syberry Corporation is another custom software development and quality assurance vendor located in United States, with its head office situated in Austin, Texas. Syberry Corporation offers a variety of technical and business expertise, and they have a ton of disciplined experience when it comes to creating software solutions for US companies in almost every industry. They are highly capable of providing diverse, complex web and mobile solutions when it comes to meeting the individual needs of every different kind of client. They take pride in leveraging industry-specific knowledge when it comes to providing exceptional custom software solutions ranging from startups to mid-size enterprises, and large corporations in present in all major sectors.
Their clients have always regarded Syberry for their transparent pricing, superior communication, and unparalleled quality of design and development modules. Our work is driven by the desire to truly help their customers, and they constantly strive to provide clients the best results in every department of an application development segment.
Hourly Rates: < $25/hr
Location: India, United States
Employees: 50 – 249
Founded: 2012
West Coast Infotech is an award winning organization specializing in creating stunning website, Custom Software Development & Digital Marketing Company. We have 100+ in-house experts to Solve all your digital needs including Software Development, Web Development, SEO Service, Social Media, Paid Marketing, Adwords Marketing & Mobile Apps development.
We have 8+ Years of experience in Development & Marketing and have certified experts in every area. We are highly affordable and Quality services where our Aim is to provide excellence. Our experts are certified in Google Adwords, Google Analytics, Bing and Hubspot. Our Squad has developed applications and websites in PHP, WordPress, Drupal, Joomla, Magento, CI, Laravel & Angular. Contact us at info@westcoastinfotech.com and request a free quote with NDA.
Hourly Rates: $25 – $49/hr
Location: India, United Kingdom
Employees: 50 – 249
Founded: 2011
Innovify is a London-based digital innovation company that proudly provides the very best features when it comes to the development of the latest products for the businesses of the future.
Since its inception in 2011 Innovify has helped clients from various sectors and backgrounds towards building a wide range of award-winning digital products which primarily includes mobile applications, web platforms and many more.
Their house comprises of a broad team of product managers, developers, and UX/UI designers and as a company, they take immense pride in themselves when it comes to delivering innovative projects and seek their credibility in seeing simple ideas develop into successful businesses.
They have went forward towards becoming successful partners with their clients, and have gone forward to manage the entire life cycle required for product development across the entire spectrum of internet-enabled smart devices which include web and mobile.
Hourly Rates: $25 – $49/hr
Location: Argentina, India
Employees: 250 – 999
Founded: 2003
BELATRIX Software is amongst Latin America's foremost innovators of agile and application designers. They have successfully leveraged the benefits of Nearshore Model and Belatrix helps clients achieve the maximum impact of their R&D and when it comes along the lines of product development capabilities, developing high quality innovative software, QA & testing and mobile solutions remains their forte. Applied methodologies of scrum and a proper design thinking approach helps the company craft solutions that help reduce clients time to market by offering access to top global talent, applied innovation and industry best practices whilst reducing costs to the bare minimum. Belatrix's clients include an array of established Fortune level to emerging venture backed firms.

Hourly Rates: $25 – $49/hr
Location: United States, India
Employees: 50 – 249
Founded: 2016
MANGOSOFT is a software development house that is blessed with high-quality standards and also a very exceptional eye for detail which helps them craft stunning applications. They have a world-class reputation for delivering their products on time, alongside a creative and stunning design that incorporates the vision of your brand.
Whether it is an application for your mobile, web or it is help from the the right developer, Mangosft is capable of providing creative, attractive and effective IT solutions for every individual client or company they work for — regardless of the size and specifics for their business.
As one of the top php app development company, we are carefully able to access the kind of services app development companies are capable of offering and the market shall orient itself due to the rise of this framework. Hope the above list helped you and if you are looking for more expert consultancy, feel free to write to us at sales@brainmobi.com .
---