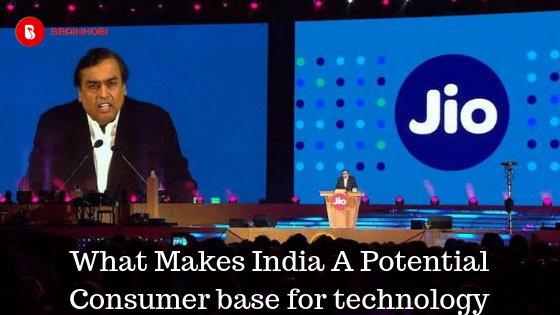 Reliance went on to introduce reliance Jio Giga fiber as early as August 2018. A year into its proceedings and reliance has expanded its missions by offering its JIO Fiber expansion to more users at more affordable costs. This shall help plenty of businesses, startups because besides the high-speed internet there are several other surprises. Let us take a look at a few updates that indicate a really positive growth factor for the global technology market and most of all to growing Indian enterprises and startups and app development companies in general.

1. Deliver Better Internet-Based Experiences To Indian Audiences:
The market of applications defines itself from the choices of segregated audience patterns and while many applications perform globally on different scales, several applications have managed to scratch enterprise levels from the Indian consumer demographic. TikTok can be an example which in many cases surpassed even PUBG and Fornite as one of the top engrossing applications. While all of this as of yet was limited to consumers with handheld devices, with the JIO Giga Fiber factor India shall witness a growth in its broadband consumer growth which shall be recipients of other potential commodities like streaming media, game streaming, AR, VR, music streaming, smart homes, IoT etc.
2. Giant IoT Platform Control Them All:
With all these implementations into action, Reliance definitely understands the impact of upcoming technology and estimates a $2.8 billion revenue opportunity. Reliance aims to provide IoT facilities to the estimated 2 billion devices that could be interconnected. Placed all under one roof, this shall help facilitate devices really uniformly and more importantly shall be a part of the Artificial Intelligence and Machine Learning movement which almost any enterprise shall be looking to adopt. This shall help all enterprise owners manage their performance analytics brilliantly and customer support systems shall be more automated.

3. Cloud Implementations:
"Jio and Microsoft will partner to launch new cloud data centres in India, ensuring more of Jio's customers can access the tools and platforms they need to build their own digital capability," Nadella added.

It could be intriguing considering the role of Amazon in the world of cloud technologies, but Microsoft could have its own plans and reasons behind this. Own digital capabilities, in this case, might refer to reduced server costs and cloud infrastructure that shall encourage more enterprises and businesses in the IT sector. Russia's face app scandal brought to our notice about its server infrastructure situated in the US, and data centers created in India might eliminate excessive reliance on foreign services for hosting their data. And more importantly, they get ownership of it as well.


4. Reliance Could Might Become The Biggest Data Cultivators:
With its IoT plan for the 2 billion devices and subsequent cloud infrastructure are the ingredients of the perfect AI and ML revolution that India is about to witness. Data cultivation is of great importance in today's date and ensuring proper means of ownership can help fetch a great market value from other ML and AI startups from all across the globe and there shall be various clients surrounding it.
5. Great Time For Investors to Harness Indian IT Pool:
With such provisions now shall be a great time for foreign investors and application enthusiasts to outsource development tasks to Indian developers as the low development costs of developers and fancy provisions shall help you execute the initial implementations of your AI and ML aspirations at the best ratio of cost to quality. This shall assist almost any industry vertical and investors belonging to any domain.

Being one of the top mobile app development company, BrainMobi takes into close consideration the action of bigger players and its impact on the technology market. We aim to resolve every complexity and deliver every crucial intel that could bring you closer to your application development goals.
If the above plans excite you then feel free to write to us at sales@brainmobi.com and let our consultants come to your rescue.

---