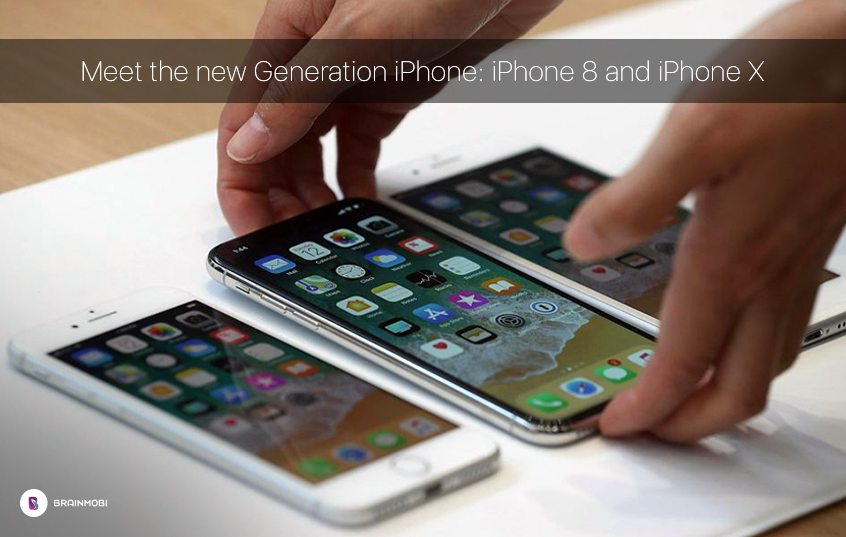 The wait is finally over for all the iPhone lovers when Apple revealed the new generation of iPhone at an event in Cupertino. Apple launched not just one but three new iPhones. Yes, three. The iPhone 8 and 8 Plus which is very much similar to iPhone 7 series. Though the developers have tried their best to upgrade the existing models without completely changing them. The third model, the iPhone X, is another thing entirely.
Both iPhone 8 and iPhone X are packed with a bunch of surprises making all the frenzy around the release worthwhile. With a hoard of new features like wireless charging, faster processor, better camera and the new Face ID features etc this series of phones are definitely considered as the best iPhones from Apple till date. With so many other additions to the list of features, Apple claims to offer unmatched user experience never encountered before in any mobile phone. Don't get carried away with the glimpses only, let's explore more about the new series of iPhones and how the more clear picture will make you drop all your plans to buy much popular Note or Pixel :
Wireless Charging

The series of iPhone 8, iPhone 8 Plus and iPhone X are the first iPhones to support wireless charging. With a changed look of iPhone's back covering with glass instead of the whole thing, aluminum makes it perfectly compatible with Qi-compatible wireless charger. Many places like Starbucks and some newer cars already support wireless charging based on same Qi technology as the iPhone. So far, wireless charging has been considered as a flagship feature which juices up the battery level from 0 to 50% within 30 minutes. All you need is an Apple USB-C charger and Lightning cable (Sold Separately). Soon to be released AirPower is Apple's own charging accessory with room for other iPhones and iWatch.

Powerful Processor

iPhone 8, iPhone 8 Plus and iPhone X all three have the same powerful A11 Bionic processor as the iPhone 7. It's the fastest chip that Apple has ever put in an iPhone — and the iPhone 7 already felt plenty fast. This new chip is all set to deliver the best of augmented reality tricks that you might've seen demos of. Soon, such AR based apps will make their debut with actual apps and games in the App Store. All recent iPhones made with great consideration to avail room for all the latest technologies, but Apple claims the 8 and X have been specially "optimized" for it.

Camera with Faster Sensors

Nothing much have changed on this front except iPhone X. The 12-megapixel f/1.8 camera has a "larger and faster" sensor than the iPhone 7, says Apple, so if all you care about is having one good camera, iPhone 8 series should be an excellent choice. It's got optical image stabilization and can record 4K video at 24, 30, or 60FPS — just like the other new phones. iPhone X offers better camera quality with the telephoto portrait lens on the iPhone X's dual-camera (f/2.4 vs. f/2.8). Both rear camera in iPhone X offers optical image stabilization, which should allow you to use the telephoto lens in darker conditions. This feature is missing in iPhone 8 Plus. Primary 12-megapixel camera and 7-megapixel selfie camera is common among all the three phones.

Upgraded Display

The screen itself, called a Super Retina Display, is a 1125×2436 OLED display, retailed by Samsung. It's the first time Apple's used OLED tech in an iPhone to incorporate some big advantages. The display supports Apple's True Tone feature, which adjusts the screen's appearance and color temperature so that it always looks pleasant and less blue/harsh to your eyes in a variety of lighting environments. iPhone 8 comes with a screen size of 4.7-inches and iPhone 8 Plus comes with 5.5-inches OLED screen whereas iPhone X edge-to-edge OLED screen size stretches to 5.8-inches while supporting HDR video which is a unique feature. Front and back covering with the hardest glass are common among all the three phones.

No Home button

In iPhone X, Apple has eradicated the home button with top to bottom edge-to-edge OLED screen. A bunch of the feature's functions has been moved to the side buttons. For Siri, Long-press it whereas double click for Apple Pay. Unlike touch ID, users can unlock their iPhone with facial gestures. Face ID is the biggest adjustment that iPhone users will have to make in years.

Face ID

Face ID is the feature which replaces your fingerprint in powerful iPhone X. Once your Face ID is setup, you'll unlock your phone by holding it up to your face, pay for things by holding it up to your face, and log in to apps … by holding it up to your face. Apple says it has done extensive work to make sure masks and photos can't fool it. All of these facial-recognition features are made possible by an array of cameras and sensors packed into that notch at the top of the screen. Apple touted Face ID as both more secure and more convenient than a fingerprint, and the onstage demos certainly made it look that way.
Unlike the iPhone 8 Plus, the regular iPhone 8 is still relatively easy to use in one hand. iPhone 8 has also faced some criticism for short battery life and 4.7-inch small screen as compared to iPhone 8 plus and iPhone X. Out of all the three models, iPhone 8 plus offers the best battery life. Silver, space gray, and a "beautiful new gold finish" are available color options for the iPhone 8 series. Matte black, jet black, and rose gold are reportedly discontinued.
You can preorder your iPhone 8 or iPhone 8 Plus on September 15, and the phones arrive in stores on September 22.  Ahhh !! Is iPhone X the perfect option for you? Wait until November when it's available in Apple Stores worldwide for purchase.
---