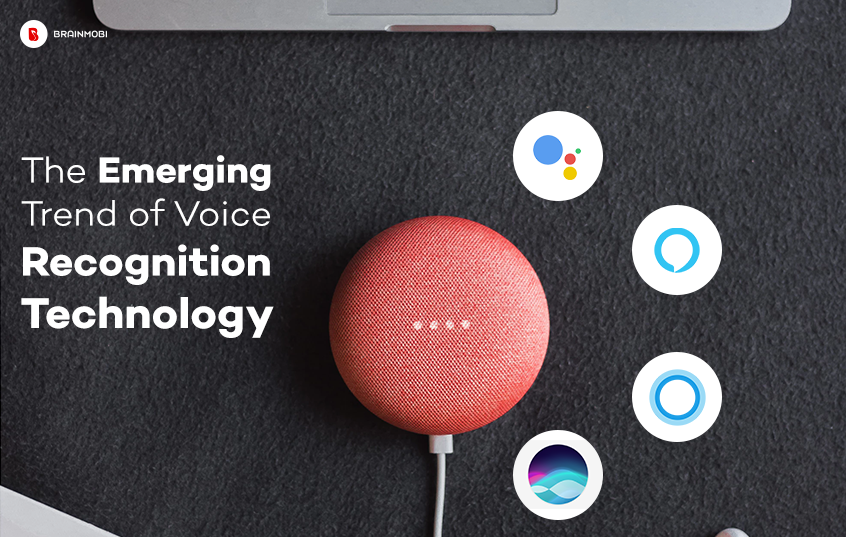 Post WWDC and Google I/O events for the year 2018, it is quite evident that voice recognition is the latest trend of features which the average smartphone user will get to avail. This for sure is a product of the period and if possible because of the kind of advancements achieved in the field of cloud and data consolidation.
With the kind of advantages and revolution it offers in the field of application user experience, it is evident that any application developer would definitely want to incorporate it into their system if they wish to stay relevant with the kind of trends. As one of the top mobile app development company, we at BrainMobi have made extensive amount of research and formulation with the intention of understanding the best of of this technology.
Let us expand to you a few reasons why voice recognition would be a dominating element in the days to come.
First of its Kind User Experience

Voice and command recognition are entirely capable of eliminating the need to look and touch at your mobile screens. So while it makes your hands free other important stuff in your schedule via which the phone as a software device can be designed to divert your attention to the least. This shall make your software system suitable and safe to be used even while driving or amidst any purpose that might be using your eyes and hands. Talking of eyes, it is very evident that google might be looking to launch its unique version of the google glass and combined with voice recognition technology it could be the perfect combination.

First Step Towards Futuristic AI Development

From its current state of development, it is evident that AI relies on a heavy amount of data and the current advancements in AI have been possible because of the data accumulated because of worldwide app computing over the years. With industry standard elements like Siri, Alexa and Cortana, major tech heads shall now be able to gather more data and help enhance AI algorithms better. This means it could be the first step towards helping AI learn human emotions and accordingly how to react with it.
Might Change Customer Support For The Good

Google I/O 2018 was an exhibit of the fact that AI is enough able to ensure an appointment with a real human over a voice call. Such accuracy and reliability is enough to state that technology can help replace human effort for certain but nevertheless necessary functions most of which involves communication and information exchange. This can rightfully be implemented in eCommerce, telecommunication or any service that qualifies as customer support.

Surveillance and Security Systems
Surveillance and security systems rely on the accuracy of information delivery and concentrated amounts of attention which in turn relies on human observation skills. Surveillance and security systems which can be easily conducted via computer systems. Following which when it comes to information exchange, AI voice systems will to the rescue when it comes to sending reliable information at the nick of time without any scope of missing out or otherwise human errors.

Might Help Eliminate Language Barriers In the Future
While AI voice systems have only evolved in a single language, nevertheless it shall be easy for engineers to frame the linguistic systems for other languages as well. Efficient translators have been developed and been extensively put into practice even though it is mostly for text modes. But encouraged use of voice recognition systems might help AI understand better languages in the future and help bring ethnic independence when it comes to interaction with technology.

As one of the top android app development company, we at BrainMobi devote a lot of time to quality research and analysis. With the aid of our highly flexible developers, we are always able to anticipate the hot trends that shall define the world of mobile application technology. If you have any ideas for your latest mobile application in regard to any of the above mentioned functionalities, feel free to write to us at sales@brainmobi.com .
---