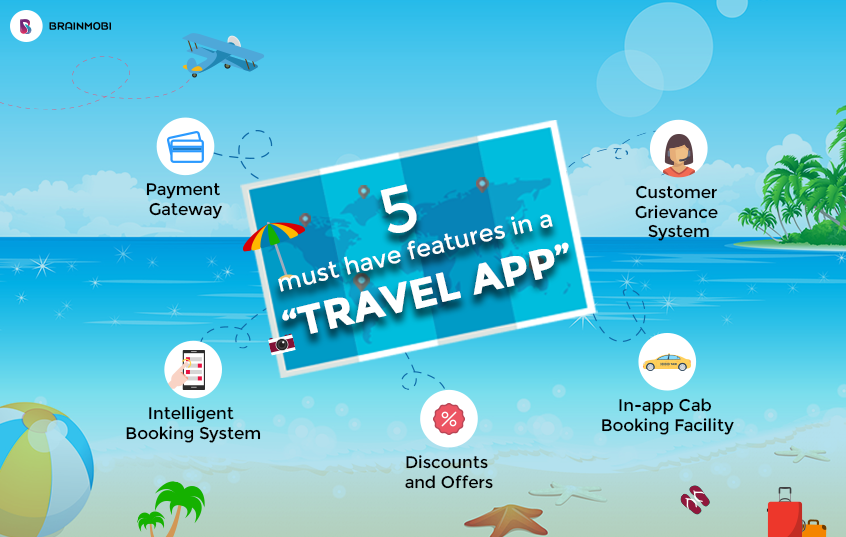 Mobile apps are booming in every single corner of the world. With continuous rise in the number of smartphone devices, on-demand travel providers are showing no signs of stopping and developing newer apps. Travelers these days prefer to use multifunctional applications that allow them to book a cab, listen to songs, chatting, social networking that simplifies their lives. Throughout the mobile realm, you should focus on some of the best features that help build a strong application. Do you know that while developing a travel app, every mobile app development companies usually develop three different types of applications? These 3 apps are basically termed as panels by mobile consultants. These panels are, viz, user panel, agent panel, and admin panel.
User panel is designed for common users who install the app to carry out basic functionalities like transaction, booking etc. This holds primary concern in terms of design and functionality as provides a business platform. Much of the focus must be invested in designing this panel.
Agent panel handles all the bookings done by the users and provide them with the services they are looking for. This panel should be designed in a way to handle communication between both concerning parties i.e. User and Admin.
Admin panel is used by the app owner to manage both User and Agent to provide smooth business processing. Responsibility to Introduce attractive offers to mould the application for better user experience lays in hands of the administrator.
Sales and conversions on the other hand not only need a well built mobile app with a good looking UI teamed up with a sound go to market, it also requires a good user experience. So if you are unable to provide a good user experience with your app no matter how good your app is you won't be able to take your app on top of the list. For your convenience we have created a checklist of 5 must have features in a travel app that will help the people who are developing their travel app for the first time. Let's dive in and checkout the features that would help you get your app on top of the charts.
1. Payment Gateways
Whether it's a travel app or a fashion mobile commerce application, allowing the user to make mobile payments for using the services. It's critically important to have a payment processing gateway that runs smoothly within your mobile app. In certain regions of the world, where plastic money and online banking has penetrated the market very deeply, online payments are preferred over COD. However saving and sharing card details online with the merchants is still a security taboo. Thus integrating faster, easier and trusted payment methods like Paypal, Paytm, Google wallet, Apple pay, online banking etc will help run transactions smoothly. This helps to reduce the number of abandoned transactions and help engage consumers who prefer to transact on their native language that results in enhanced user experience thus increase in transaction success rates.
2. In-app Cab Booking Facility
As we all know travel apps help the users to make online hotel, train and flight bookings with just a few clicks using various travel apps available in the market like MakeMyTrip, Cleartrip, Airbnb, YoTrip, Trivago and much more. Integrating in-app cab booking facility is also one of the essential feature required in a travel app for a great travel experience that allows users to book a cab by not moving out of the application.
3. Intelligent Booking System
By intelligent booking system we mean an app that helps users in performing multiple functions such as price comparison, categorization, and sorting, set reminders, timely notifications regarding new offers and can also plan and save future bookings. Integrating smart filtering and search engine is yet a good feature that helps in maximizing the revenues. A solution that fits in perfectly within a user's busy lifestyle and offers ease of use that makes user experience memorable.
4. Discounts and Offers
Offering regular discounts, coupons and offers in your app can be a powerful weapon in your conversion arsenal. It helps you increase in conversion rates and retain a large and good amount of customer base for your app. They are very easy to track, quick to implement and help you drive loyal customers. Social media integration is yet another good option that plays a very important role in sharing and spreading great user experience. Allowing users to connect their Facebook account in order to create profiles and save deals. In addition, it also helps in simplifying the order data entry and help the users to automatically fill up their basic details and place the order.
5. Customer Grievance System
Taking time to time customer feedbacks, reviews and rating help you build a trusted base. An app must have strong and powerful customer grievance system to address FAQs and customer complaints. With a good customer grievance system you can have a grip on customer complaints coming in through phone, email, chat, or via social media. You must take care that your app must look for more deeper issues concerning every important aspect of the app.
For an optimum travel experience, one must implement these features into the core logic while developing travel apps for the first time. You must also keep in mind the app security. Are you also interested in knowing how much does it cost to develop a travel app? Check out our blog.
At BrainMobi, we are building apps with great UI and UX while focusing on quality, speed, and pixel. Our flexible engagement models will help you work smoother and faster. Our engagement model includes fixed price, agile and staff augmentation. In fixed price, all the requirements, functionalities, timeline and the budget is already frozen. In agile work model, we help clients to develop an initial app to launch in the market, test the app and update it as currently changing market trends. Under staff augmentation we give our clients a flexibility to screen our team, select their own choice of developers and designers to work for them whether in-house or on we can deploy our on own location as per the requirements.
Get the discussion started to help us incorporate great travelling experience in your travel app !! For a free consultation on redesigning your app and employing the right development practices,
Contact Us or drop us a line at – sales@brainmobi.com
Liked our blog? Share your thoughts in the comments section below and get in touch with like-minded people.
---