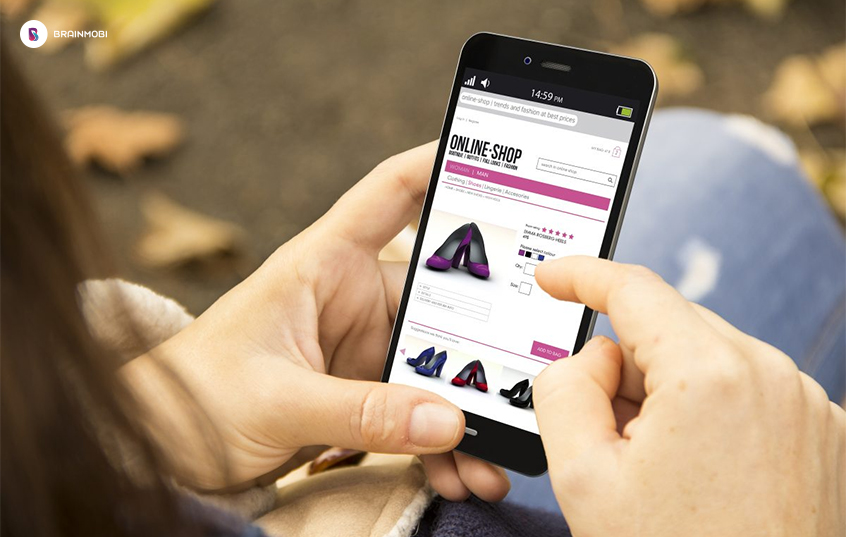 E-Commerce has seen many changes with evolving mobile app revolution that has become important parameter when you are planning to build up a brand across the realms of E-Commerce. With increasing popularity of Digital Money and Online Payment, E-Commerce Mobile Apps have become a shining star in the market. Both users and businesses have become habituated with utmost convenience where transactions are completed within an instant. Mobile app developers have taken the notice of online presence and monitored it to build mobile apps that make the whole world go drool about.
At BrainMobi, like many other categories, E-commerce mobile development also have a great share when it comes to a number of queries received regarding mobile app development. Our developers and designers have been accustomed of processing received queries from around the world and give them a great shape and size. Below are some of the points that we followed and should be considered while designing and developing every aspect of e-commerce mobile app:
Choice of Platform
E-Commerce apps are meant to deal with monetary transactions and need top-notch security. Accordingly, it becomes important to chose the platform wisely which could help you make such high secure environment successfully sustain. There is no hard and fast rule for choosing a particular platform for a particular device. Every mobile app has its own set of features and every feature demand a different set of security measures. Depending upon the set of features, our mobile app developers offer the best of security measures.
Tools and Frameworks
Being a team of well-versed professional, BrainMobi is known across the continents for delivering the best of app development services weaved around the most updated frameworks and libraries. This parameter is definitely one of the most important aspects of mobile app development that categories a good app development company from the best. At BrainMobi, we leave no stone unturned to erase that line and be the best in every project we undertake.
High Definition App Design and Simple Features
Mobile app gains traction when the integrated features are simple and designs are the graphical best. Apart from other important parameters, these two factors play an important role where the user gets an insight into how would it be to entrust the brand for the further experience. Make sure to keep the designs and features as such that urge the users to go for more while exploring the app. At BrainMobi, we have the best of the team to deliver the most loved features and designs while developing an e-commerce mobile app.
Latest Trends and User Demands
Make sure to integrate best of trends and user demands that are based on well-monitored data from apps that belong to same category or industry. The mistake to go wrong with user demands could cost you more than anything while developing a mobile app to cater E-Commerce domain. Apart from top notch and smooth running app, there is a need to deliver the best of latest features that help your app idea gain traction and become a nerve wrecking competition for other well-established apps in the same category.
Integrate Marketing Tool
Tools that help you hike the popularity of your app is need of the hour. There are a number of Wayouts that help you bring out the best of results in terms of tracking and marketing your app. Obtained results will help you gain an insight into user preference and their habits pertaining to using your app. Good knowledge of marketing tools is need of the hour to let the users know who were waiting to use your app.
Integrate most Popular Payment Gateways
Payment gateways are an important part of an e-commerce Mobile App. Make sure to integrate the most popular payment gateways that allow users to become familiar with the payment method asap. Apart from payment gateways, modes of payment also play an important role. Popular payment modes are Internet Banking, Digital Wallets, Debit/Credit Card, EMI options and much more. Make sure to integrate the most used payment gateways and payment modes.
Above are some of the most crucial aspects that need to be taken care of while building an E-Commerce Mobile App. At BrainMobi, we are one of the well-sorted names o build mobile apps that belong to a diverse list of categories and industries.
Looking for developers that are Expert in designing and building E-Commerce Mobile Apps?
You are at the right place where our team is well-versed to deliver a work that is nothing less than excellent.
---