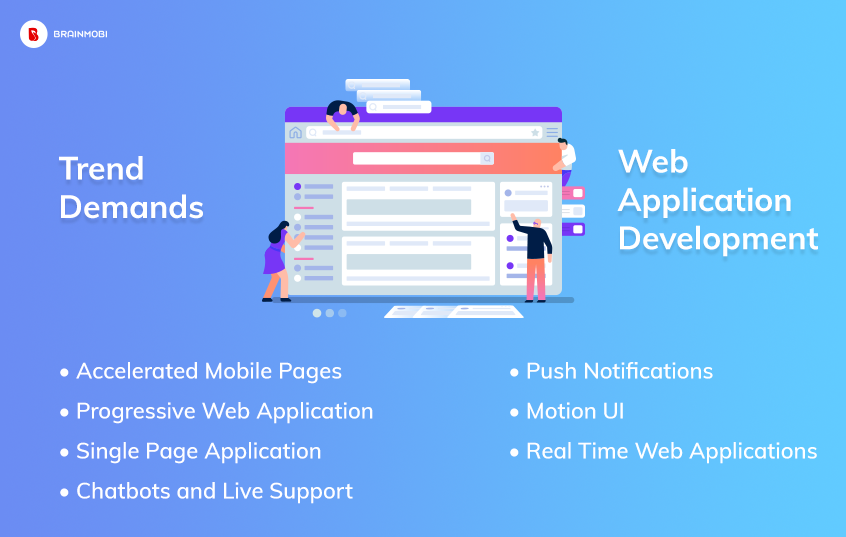 Web Application development is an ever evolving subject and and the corresponding year will see some new pitches as well. User expectation and ever increasing industry standards shall be more than important to deliver a breathtaking digital experience which is engaging, intuitive and fun at the same time. This means that the content should be accessible, everywhere and in real time and more importantly on mobile phone devices.
While new programming languages and frameworks are constantly on the rise, extensions and real time web applications are also becoming highly popular. As one of the Best Web Application Development Company, we at BrainMobi keep a constant eye on the check for the latest trends in practice. Let us explain to you a few of them:
Accelerated Mobile Pages
As of Feb 2017 it was reported that Accelerated Mobile Pages accounted for 7% of all web traffic for the best publishers in United States. An Accelerated Mobile Page is basically an open source project designed to improve the performance of web content and advertisements. It is considered as a hot competitor to Facebook's Instant Articles. While it is sponsored by google it is also being supported by some of the biggest names like Bing, Twitter, Pinterest and Baidu. If implemented properly, AMP can help you achieve some offer benefits like improved site speed, better user experience and more revenue. More importantly it offers better visibility in search results and is ahead of competition in thought leadership space.

Progressive Web Application
PWAs arise as a consequence of the internet evolution and mass adoption of HTML 5. While operating within your web browser, PWAs can help you provide great functionality, and a comparatively better user experience in comparison to the native mobile applications. Taking more case studies into the picture, Flipkart too witnessed a 70% increase in the conversations and almost tripled the time spent on the website following the introduction of PWAs. This helped their engagement rate increase to an all time 40% high. This also cuts a significant amount on the usage of data.
Single Page Application
Since it works within a browser, SPA does not reload the page when in use. Facebook, Gmail, Github and google maps are a few well known and highly popular single page applications. SPAs are merely single that load all other content through javascript. They are capable of expressing the same the desired behaviour without any extra waiting time and page reloads. SPAs do the job of seperately of calling data and markup which helps directly render the pages in the browser. Aurelia, Meteor.js, Ember.js and Angular.JS are a few advanced Javascript networks that help make it possible. As SPA helps keeps user comfortable because it lets the content be displayed in a single straightforward space.
Chatbots and Live Support
While it is already spread in trend it is yet to find a new peak in terms of existing standards. Poor customer service have resulted organizations major setbacks of upto $62 million to the max and hence talking to your potential customers is a highly crucial factor. This can further range to plenty of bot training programmes and have been evolving to various kinds of online training games as well for various agents.
Push Notifications

Push Notifications are crucial for driving traffic and conversions. Push notifications qualify as amongst the most influential solutions for providing engagement within the mobile applications. The main purpose remains that of providing value with each push notification. This comes specifically handy when informing something based in real time, for example a sports score, sudden weather change, or even a fresh sales season. Quality crafting of content with the intent of automating our readership is what gives your visitors couple of onsite distribution solutions.
Motion UI

Motion UI is what differentiates your design even incorporating the most minimalistic approach. It demands to be catchy and significant at the same time. Over complicated features raise burden for developers as well as the business owners. Better UI qualifies as being intuitive and something that helps them find quickly what they were intending to. When properly implemented, it arises as a result of heavy UI/UX research and can help but do wonders relating to usability and conversion rate on your mobile.

Real Time Web Applications
Real time web applications helps information stored between the server and browser almost instantaneously. The active connection maintained between the user's browser and server is done through web sockets. Client doesn't have to ask for any information from the server unlike the case of traditional web applications. The most successful cases of real time web applications would be browser based multiplayer games, chat apps, skype and facebook messenger.

As one of the Best Vue.JS Application Development Company, we at BrainMobi are adept to the ever evolving trends in the field of technology. Our team of developers and leaders are keen to undertake any challenge that stands between you and your mobile application. If you have the idea for a mobile or web application, kindly write to us at sales@brainmobi.com .
---