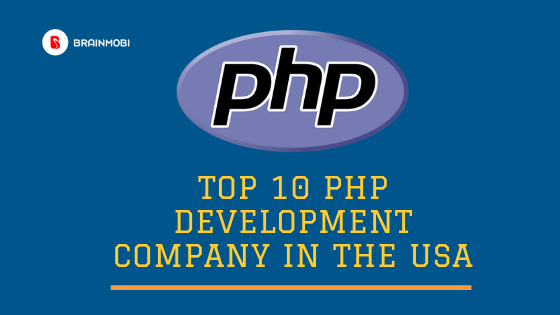 Here is a custom compiled list to help you select the top 10 PHP  Development Company in USA. PHP is quite a demand when it comes to achieving the best solutions for web applications and meeting desired trends of the market. It can be a little difficult when it comes to picking the best out of a breed. Hope this list helps you.
Location: United States, India
Employees: 100 – 249
Founded: 2003
Hourly Rates: <$25 /hr
Konstant Infosolutions is a leading premier software development company, capable of offering a wide range of web and mobile solutions which they have been doing that across the globe since 2003. The company comprises of a team of around 170+ highly qualified and experienced IT professionals who are capable of delivering the best of technology solutions and consulting services across diverse business needs for the diverse industry verticals.
Location: India, US
Employees: 100 – 249
Founded: 2016
Hourly Rates: $12 – $26/hr
BrainMobi has taken plenty of vigorous endeavours over the years and has delivered close to 5,000 projects across 31 industries worldwide. When it comes to adhering to quality and short timelines, the company has developed quite a good reputation in the fields of web app development and the corresponding market. When it comes to memorable customer experiences they are highly regarded thanks to their feature-rich, custom websites and are flexible enough to meet the market trends. The developers comprise of a group of certified professionals in PHP and other programming languages who proceed forward with the devotion to building something extraordinary yet generic and simple.
Location: United States
Employees: 11-50
Founded: 2009
Hourly Rates: NA
Over the past 8 years, OpenSource Technologies (OST) has served Web and Mobile App development services globally. Their office partner are located in New Delhi (India) and Georgia (USA) and Philadelphia (USA). Open source is reputed for providing cost effective and innovative solutions to their clients belonging to various industry verticals. OST also went forward to Win the New York Small Business Excellence Award 2017 and also the Manhattan Award for  Best Website Designing Company 2016 & 2017. Their quick response for time and on time delivery is what separates them from the rest.
Location: United States
Employees: 10 – 49
Founded: 2006
Hourly Rates: $100 – $149/hr.
Jordan Crown web design company based in Seattle focused on building established business methods for their clients. It is, in fact, a one-stop shop for web design and development in Seattle as mentioned by their clients. Amongst the many one of their client reviews says :'Working with Jordan Crown on our website was such a wonderful experience! The team took our vision and transformed it into a website that has by far exceeded our expectations. They truly understood our needs and gave us lots of ideas and options to choose from." Such has been the reception of almost every client they have worked with and this enables them to craft better solutions ahead as well.
Location: United States
Employees: 10 – 49
Founded: 2002
Hourly Rates: $100 – $149/hr
FollowBright has made it really important to meet five key business requirements highly compulsory. This comprises of Compliance, security, performance, engaging UX, simple yet out-of-the-box and original UI. Followbright is a Colorado (US)- based company that takes pride in creating profitable and cost-effective mobile and web solutions for its various clients ranging from mild startups to enterprises. The Followbright team surpasses their own limits and has helped plenty of  businesses make a lasting business impression including InterThink, Innova+, University of Denver and also U.S. Department of Energy.
Location: India
Employees: 10 – 49
Founded: 2008
Hourly Rates: <$25 /hr
NMG Technologies is very well credited by the list of clients they have served over the years. Serving major brands like Bacardi, Waterman Entertainment, Lenovo, Nikon, Havells, NASSCOM, Crabtree, NMG Technologies has always helped exceed client's expectations by seamlessly working with the corresponding client requirements. PHP and ASP.Net are the major technologies their developers have an expertise in and when it comes to building upscale and high-performance websites NMG are always keen to take up that challenge.
Location: United States, India
Employees: 251-500
Founded: 2001
Hourly Rates: $25/hr
SynapseIndia is amongst the oldest and most trusted brands of Web and Mobile Development Companies that has been offering its wide range of quality solutions to clients from all across the globe since 2001. They have worked with some of the most reputed global brands in the likes of PayPal, UNICEF, Indian Army, Bata, DNG, Johnson & Johnson, and more.
Location: India
Employees: 50 – 249
Founded: 2008
Hourly Rates: <$50/hr
Since its inception in 2008, Sparx IT Solutions specializes when it comes to tailor-made, professional, effective and affordable web solutions. They aim to achieve 100% customer satisfaction for which the team at Sparx makes sure that their clients accomplish a website that resides to exactly what they were looking for in the first place. Having worked for brands like Yamaha, Coca-Cola, Unilever, BMW, Yamaha, GSK, Revlon, Amdocs and many others, they have went on to achieve what's called a NASSCOM certified PHP development company that has successfully served 13,200 projects for more than 9,100 clients from all corners of the world.
Location: India, United States
Employees: 100 – 249
Founded: 2004
Hourly Rates: <$25 /hr.
Octal Info Solution is an ISO 9001:2010 certified mobile app development company with more than 150+ highly skilled professionals capable of offering result-oriented and cost-effective mobile app solutions to SMEs from all across the world. Octal Info Solution offers a wide range of mobile app development services for an array of diverse business verticals like E-commerce, Health, Education0, Finance, Retail, Automobile, Energy, Tourism and Transportation and Manufacturing using the most advanced system that can be achieved with the latest set of technologies. At Octal info solution, it is assured that they shall make sure quality standards are capable of yielding a greater return on investment and hence shall deliver bespoke mobile app solution just as per the requirement of your business.

Location: United States
Employees: 100 – 249
Founded: 2003
Hourly Rates: $150 – $199/hr
Blue Fountain Media have a habit of staying on top when it comes to providing for B2B, B2C, eCommerce, enterprise, education, non-profit, startup services. In this department Blue Fountain Media ensures increased traffic within your application, enhanced brand loyalty and generating new leads for their clients business needs. Since its inception in 2003 the company has been purely dedicated to bringing together outstandingly creative minds and delivering market driven targets. Blue Mountain Media sets itself apart from others by their work culture which lets people show up to work not just to be a part of the job, but because their company goals and mission statements inspires them to grow from beneath. Their team has been recognized world wide by world's superior award agencies like Image Interactive Media Awards, Telly Awards, Horizon Interactive Awards and plenty of others.

PHP is set to take a huge rise in the technology sector when it comes to accomplishing web application development for business. If you have a unique idea for your business, feel free to check out any companies on the above list or feel free to contact us for or expert consultance at sales@brainmobi.com .
---