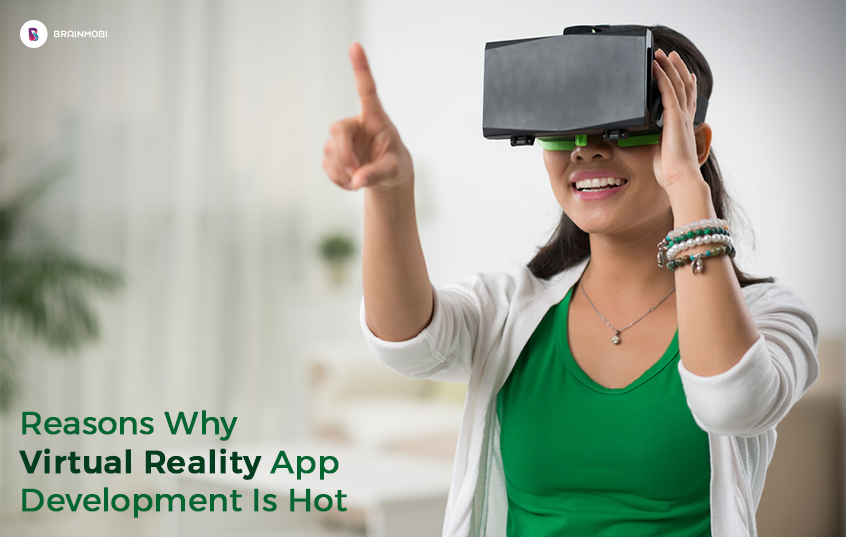 Seldom has the path to fame and money been so well paved as it is for VR revolutionaries. All that is needed is a new generation of skillsets to chart the course to unmatched success. A wealth of virtual reality business opportunities lie just ahead for those willing to explore new horizons.
Virtual Reality offers that rare opportunity to disrupt existing markets while setting new trends across markets. Immersive virtual reality experience seems to render a powerful impact. It provides fast-forward pace to user experience and expectations from an ever evolving market. Just as smartphones created the mobile app market, VR is a weapon to conquer the markets yet unfathomed.
So, what makes Virtual reality the hottest deal for businesses? Revolution in technology with the prevalence of mobility while setting a great standard of convenience.  From gaming to healthcare to business meetings, virtual reality stands poised to touch every area of our lives. Companies that are getting into VR is a projected $30 billion stake by 2020. Nope, this certainly is not your daddy's VR.
2017, seems to be a fine time to hit the right cord and transform challenging ideas into very real profits with Virtual reality. Early adopters to dive into the competition will find the field wide open, which can help even small VR businesses to shape the market. Since the VR concept and whole mechanism is still in infancy, development cost consequently can be higher, but the potential ROI could be unprecedented.
The diversity and power of the latest virtual reality hardware empower top VR app developers to create user centric applications. The number of industries affected is too many to count. But some of the industries like healthcare, education, real estate and games etc are adversely affected and initiate a trail for others to join the success boilerplate. Here are some strong reasons to make you spin your neck from left to right while prepping up the next idea based on Virtual reality:
About 39% of the app developers surveyed showed that they are creating apps for AR/VR platforms and devices, or plan to do so.
The survey shows a high interest in Virtual Reality development. Advances in the VR software and hardware, with dropping price points, has made VR gaming technology both accessible and powerful. Most app development companies, now confident in VR apps sustainability, are taking its development seriously.
VR game revenue alone is projected to make $45.09 billion by the year 2025. Here, we will consider a few reasons why VR app development is big business.
A growing number of app developers are leaving outdated platforms for VR. Thanks to the increasing interest in VR app development.
As virtual reality app companies create more and more VR apps, content investment dollars will move from 2D and 3D content to near-realistic content. Also, advances in top-notch content creation will bring new opportunities for VR application developers to create apps with higher-quality imagery.
Apps and games have progressed since the 70s. While PC and Xbox games hold a loyal market share, the future of gaming belongs to VR platforms.
Also, the availability of different budget devices allows the developers to target users who buy on a budget, people who do not mind spending a lot for the best VR app experience, and every other person in-between.
Even if not every Virtual Reality app will earn seven figures, this instance proves that users are willing to spend some money if the VR app captures their attention.
Although console and PC gaming markets are strong, and app development companies are progressively turning to mobile development as their target platform. An example of such is Alibaba, a Chinese tech company. In a coalition with some other mobile gaming firms, Alibaba is investing one billion yuan in mobile app distribution.
Overall, mobile app development of all types is a safe bet, and mobile Virtual Reality gaming holds more promise for users and developers.
How can BrainMobi Help?
Are you still in doubt about the VR revolution underway, or just want to explore more? All the above signs point to immersive virtual reality transforming society.
There will be skeptics, of course. No revolution is without them. Then there are those who delay action until victory is nearly at hand. But heroes are not made that way and neither are fortunes.
When you are ready to move, you will need a partner to do the heavy lifting. BrainMobi is a virtual reality company specialising in VR development, programming, production, and mobile app development. We'll listen to your plan, then we will put our world-class custom development team to work and make it happen.
Developing virtual reality for business is no trivial task. Our mobile VR-based mobile solutions are created while considering all critical factors across business environments in order to grow sales, increase income, and to help the client better serve their customers.
Navigating the complex web of new technologies can be a problem. Let BrainMobi be your solution.
---