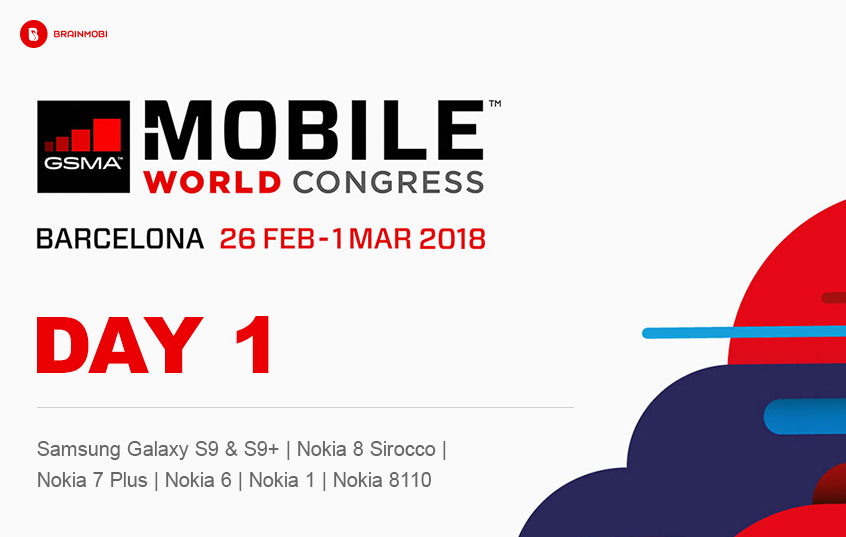 As the first day of the Mobile World Congress(MWC) 2018 held in Barcelona ended, there's a lot that we found interesting enough to be shared with you, our readers. So here are the highlights of MWC Day 1:
Samsung Galaxy S9 & S9+
Launched a day ahead of MWC at Samsung's Unpacked event, the latest flagships have been the topic of discussion for a lot of people. We've waited a lot to see what Samsung would offer us in 2018 and Samsung didn't disappoint. S9+ would cost $839 while S9 would cost $719. Both the phones are significantly better than their predecessors, S8 and S8+ in terms of the features that the phones are offering to their users.
While Samsung Galaxy S9 comes with a 5.9-inch QHD+ Curved Super AMOLED 18.5:9 display, Samsung Galaxy S9 features a 6.2-inch QHD+ Curved Super AMOLED 18.5:9 display. Both the phones are powered by the 64-bit octa-core Qualcomm Snapdragon 845 SoC. S9+ sports a 6GB RAM, while S9 sports a 4GB RAM. Samsung Galaxy S9 comes with a 12-megapixel rear camera having OIS and f/1.5 and f/2.4 aperture. Samsung Galaxy S9+, on the other hand, comes with a dual rear camera setup having dual OIS, a wide-angle lens with SuperSpeed Dual Pixel 12-megapixel autofocus f/1.5-f/2.4 sensor, and a telephoto lens with 12-megapixel autofocus f/2.4 sensor. Both the phones come with an identical 8-megapixel autofocus front camera f/1.7 sensor.
Nokia 8 Sirocco
The next best thing that made it into the first day of MWC was Nokia 8 Sirocco. Priced at $923, the flagship smartphone sports a Snapdragon 835 chipset which comes with 6GB RAM and 128GB onboard storage. Nokia 8 Sirocco comes with a 5.5-inch 18:9 curved AMOLED display, much like Samsung phones have. The phone is made of a metal frame and Gorilla Glass 5. It seems Nokia is keeping up its tradition of making seemingly indestructible phones.
The phone runs on Android One and comes with the awesome Nokia OZO triple mic setup for better audio quality during calls and while recording. It has a 12MP f/1.7 rear camera and a 5MP front camera, both equipped with Nokia's Bothie feature. The phone is powered by a 3260 mAh battery and has a USB Type-C port. The only drawback is that it doesn't have a headphone jack.
Nokia 7 Plus
This midrange smartphone comes at a price of $492. Nokia 7 Plus sports a Snapdragon 660 chipset which is coupled with 64GB of onboard storage and 4GB of RAM. Much like Nokia 8 Sirocco, it also comes with Nokia's OZO triple-mic setup.
This one also runs on Android One and comes with a 12MP rear camera with and a 16MP front camera, both equipped with ZEISS optics. The phone features a 3800mAh battery which is more than enough for a day's worth of heavy use.
Nokia 6
The 2018 model of Nokia 6 comes with a Snapdragon 630 chipset which is supported by a 4GB RAM and 32GB onboard storage. The phone sports a 3000mAh battery to power its 5.5-inch 16:9 full HD LCD display protected by Gorilla Glass 3. With a 16MP rear camera and 8MP front camera equipped with ZEISS optics, the phone is as good as it gets in the $344 range.
Nokia 1
This one came as a surprise. Nokia 1 runs on Android Go, which is a light version of Android Oreo 8.1 powered by a MediaTek MT6737M SoC chipset. The phone comes with 1GB RAM and 8GB storage at a cost of merely $85. It sports a 5MP rear camera and a 2MP front camera. Nokia 1 has a 4.5-inch 16:9 LCD IPS display and comes with customizable Xpress-on covers.
Nokia 8110
Nokia has brought yet another iconic feature phone back to life with the new Nokia 8110 "banana phone" which features a sliding keymat with a T9 keypad having navigation buttons. Nokia 8110 runs on Kai OS (based on Firefox OS), and sports a Qualcomm 205 chipset with a 512MB RAM and 4GB onboard storage.
The $91 phone sports a 2.4-inch curved display backed by a 1500mAh battery. It even has a 2MP rear camera with LED flash. What baffled the audience was the fact that the feature phone has a dual-SIM setup with a 4G VoLTE network support.
That's all that caught our eye. Let us know what interested you the most in the comments below!
---