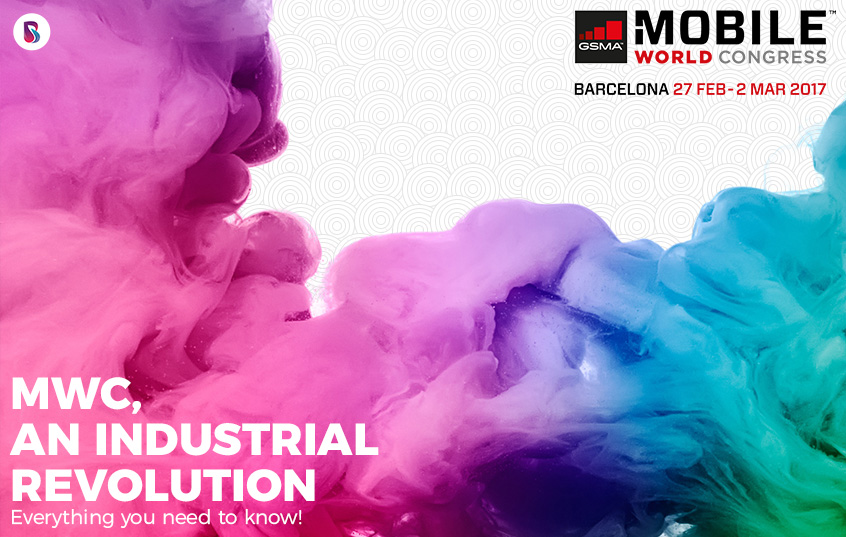 Mobile World Congress (An Industrial Revolution) is basically a launching platform for the hottest Smartphones, mobile apps, a range of tablets, and other connected gadgets like Smartwatches, etc. It is a blend of the world's biggest exhibition held for the versatile mobile industry including a complete gathering of prominent executives who are representing the mobile administrators, gadget manufacturers, vendors, technology providers, content proprietors from all over the world. This event was at first named as GSM World Congress but later on, it was renamed to 3GSM World Congress.
The Mobile World Congress for the most part, happens in February however; at times it happens in the 1st week of March.  The Event of MWC 2017 is going to take place in Barcelona, Spain from 27th Feb to 2nd March & Mobile World Congress Shanghai from 28th June to 1st July of 2017. The general participation of attendees in MWC is about 90,000-100,000 people, who represent approx 200 nations around the world.
Purpose of GSMA Mobile World Congress Exhibition
Mobile and Technology have become completely dependent on each other. In today's era of rapidly increasing technologies, everything has a Mobile Application for e.g. a mobile app for health and fitness, a mobile app for retailers and shoppers, from business to dating to entertainment we have a mobile app. Therefore it's difficult to live a perfect life these days without having a mobile app based on latest innovation and technologies. Mobile isn't only a gadget or an innovation rather it's a marvel at the heart of all that we do.
Exactly when you think you can characterize your mobile then, it adjusts and changes. How would we be able to portray the phenomenon of mobile in this technology-driven age? GSMA Mobile World Congress 2017 will feature how the Mobile Application Developers are changing the establishment of technologies in today's world. You should not prefer to miss it. We want to make it sure that MWC 2017 is going to make your experience trouble-free.
What It's Gonna Present?
Mobile has become our daily routine & plays a vital role in our daily life. The opening of the Mobile World Congress 2017 will include C-Level Executives from around the globe.  They are going to make a big appearance to talk about the short and long haul opportunities, challenges & difficulties, openings confronting related to the mobile business industry. Knowledge on how the administrator can keep on playing a focal part in supporting worldwide financial development and social capital.
Key points will incorporate the following:-
The Boom in video utilization
Pervasive Network
Move to 4k and virtual reality
Sustainable Development Goals
enormous information and artificial intelligence
Fourth Industrial Revolution
Road to 5G
Entertainment
More extensive effect of portability on society
What to Expect At MWC 2017?
CES (Consumer Electronics Show) didn't offered much in this year for mobile fervor. A year ago, Mobile World Congress outperformed the 100,000 attendees stamp, according to GSMA, and there are no chances of the audience to back off. Organizations have been prodding their huge uncovers since January, with some much more eager to let the cat out of the bag than others trying to find buildup before the gathering. In brief, we could sum up that the following major mobile phones we are expecting at MWC 2017:-
Sony Xperia X2
BlackBerry DTEK70
Nokia 8/P1
Huawei P10
Moto G5
LG G6
Since it has started to include other connected devices as well, MWC will be going to discuss about the future of gadgets including 5G, VR (Virtual Reality), Chipsets & other technologies. So don't miss our blogs we will keep you update about everything you need to know. What else you are looking forward to the most at GSMA Mobile World Congress in 2017? Let us know in the comments.
---