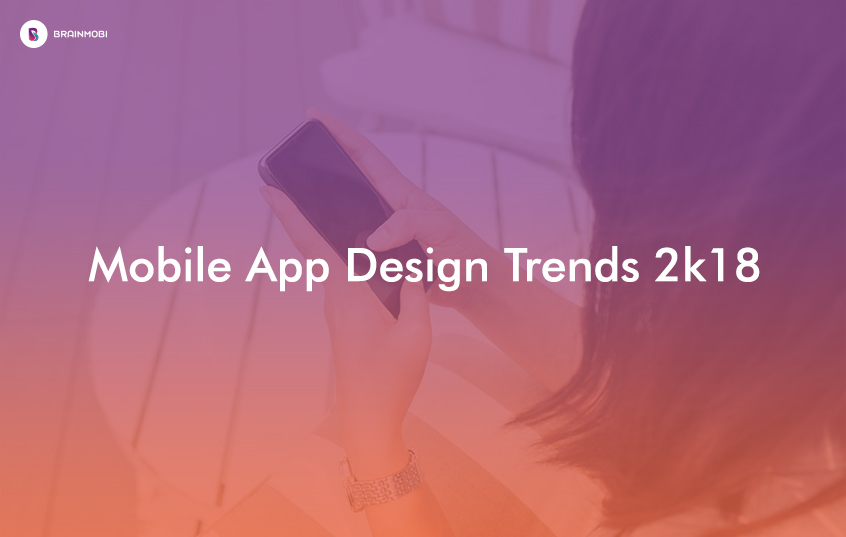 While it seems a bit unbelievable, but we only have a month before 2017 ends. The year went by quickly, eh? Gone are the new year resolutions and the promises of "this year is going to be my year".
In the mobile app industry, the design department has seen a lot of shifts and transformations. The trends are changing and the industry is quickly changing its methods of working hard to keep up with those trends. But that's a thing of the past since 2017 has almost ended. So, to keep you up with the latest trends that would make it into 2018, and the trends which would come up in 2018, we are here to inform you about them!
Material Design Over Flat Design
In 2018, material design would overcome flat design because it looks more alive. It creates an impression that you're viewing and touching a real object on your screen. As a designer, you need to make sure that the elements look not only interactive but also as life-like as possible. While flat design has been the industry standard for quite a long while, given its heavy usage by Apple, Google chose to disrupt the industry with material designs. It is up to the user to decide what they find better. For some users, material designs are more aesthetically soothing, while for some others, flat designs are more aesthetically soothing. To be honest, I find flat designs to be better at aesthetics, but they don't feel real and that's what compels me to choose material designs over them. Coincidentally, many others increasing feel the same way. The use of material designs has been on a rise and is still rising. Many professionals such as the talented iOS designers Jason Zigrino have recognized the need for using the need for using material designs over flat designs. Hence I have reasons to say that this would be a trend in 2017.
No Bright Colors
Up until much recently, it was said that bright colors are necessary to grasp the attention of your users. So the designers had to use rainbows and unicorns to make the users see the content(the remark must be taken with a pinch of salt unless you actually use rainbows and unicorns to make users see your content). In 2018, this would no longer be needed. In fact, pastel colors are making it big in the design world. All you need to do is to thin them down using just one bright color on which you make an accent. That's it, that's all that it takes to make captivating designs. And this is what 2018 would be all about. No more neon colored texts, just simple soothing colors making your designs look cool and stylish.
Bezel Less Display
As you might have noticed in the latest smartphones by leading mobile phone manufacturers such as Apple, Samsung, LG etc, bezel-less display smartphones are on a rise. Bezel, as you might already know, is the space between your screen and the edge of your device. (NOTE: This doesn't apply to you if you already have a bezel-less display smartphone. You go, you're awesome!) Look at the iPhone X and notice how the time is shown on the left-hand side and the network and battery are shown on the right-hand side. Designers would have to put their creativity to test when they would have to design apps for such displays since the screens aren't simple anymore. In 2018, most of the smartphones in the market would have bezel-less displays, so this would definitely be a design trend in 2018.
Speaking of mobile app design trends, BrainMobi is a leading mobile app design and development company which keeps up with what's trending in the mobile app design and development industry. With a team of highly creative designers, we design and develop apps which are loved by all. Send us your requirements at sales@brainmobi.com for a free quote!
---