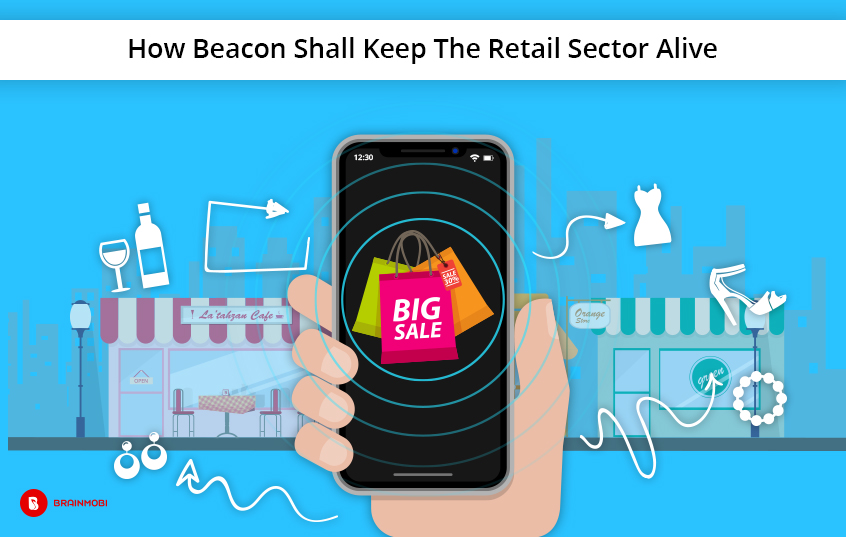 Technology is scaling its own heights in the world of fashion by contributing to online stores and internet purchase methods. Some of the top-notch fashion brands like Chanel, Celine, Hermes, Dior and plenty others have still chosen to stick to their conservative practices of showroom sales. Now obviously by the weight of the labels, it seems highly unlikely that they might be unable to afford such a mode. Considering who is making the choice, it rather seems that the traditional models of fashion stores will remain eternal even if technology could help you shop straight out of your dreams. Amidst all this, experienced retail experts have devised a smarter method where technology has rather assisted not chosen to dictate the way of certain trends which choose to remain eternal of all ages. Being one of the top mobile application development company and having worked with retail sectors let us explain to you a little bit about Beacon.
What is a beacon?
Beacon are small devices that transmit one-way data using Bluetooth Low-Energy (BLE) and is capable of delivering location-based information to any device that has the specific app installed within itself.
How can it help you?
Based on the above point a Beacon app can be customized to send information which is relevant to your reason of being in that particular location. The information shall be displayed in the mobile application screen in the form of any other mobile application and the host of the particular location can choose what where to display, what when to display, when what to display, when where to display, where what to display, when and where to display.
While all permutations make total sense and a computer system can actually perform each one of them. As per the requirement and some creative input this convenience of Beacon Apps can be used in many areas most anticipated of which are Shopping Malls. Ones being put to the concept are college campuses as well.

How can it assist a retail sector?
Big shopping centres and shopping malls are the apt places for getting a Beacon installed. Beacons can help give your customers within your shopping mall a very time and effort saving experience by incorporating features like this:
Broadcasting consumer friendly notifications

Location Guidance of any store or spot

Notifications about product details

Wishlist feature to make their purchase decision easier

Universal payment gateway

Table booking for any restaurants within the place
These are just a few subtle and already adopted practices but conceptualizers are working or other ways a Beacon can actually be utilized. Apart from the convenience features Beacon Apps can be beneficial for a business or brand owner in establishing better connectivity, brand establishment, customer retention and other elements based on how they choose to customize their Beacon.

What other utilities can a beacon app serve?
Besides shopping malls, Beacon apps are being conceptualized for other mass gathering events like conferences or music festivals. For example, Multi-Day Music Festivals of the model like Coachella, Wacken etc have serious logistics and safety considerations. Keeping in mind big data, cloud computing and other features like precise facial recognition, Beacon can simplify the ticketing process and easily solve lodging and accumulation of numbers around 10 to 20 grand. The same can apply to educational conferences which involve a conglomeration of students of various departments who are supposed to find lectures and activities specific to their discipline.On the part of the business owner, Beacon app hosts get to harness data analytics that might help them frame better marketing strategies.
How Risky is the Investment and Execution?
Apart from the usual cost that is required in making a mobile app, the additional Beacon hardware costs roughly around $100. Five such Installations can easily cover an averaged sized Mall. Considering the benefits and convenience it offers, it seems a fairly simple investment any large scale business owner can make.

Here at BrainMobi, we have experienced and skilled professionals in the field of Big Data, Cloud Computing and IoT. All of these are the ingredients of what constitutes to the best beacon application development company. If you have the idea for a mobile application, feel free to write to us at sales@brainmobi.com .

---