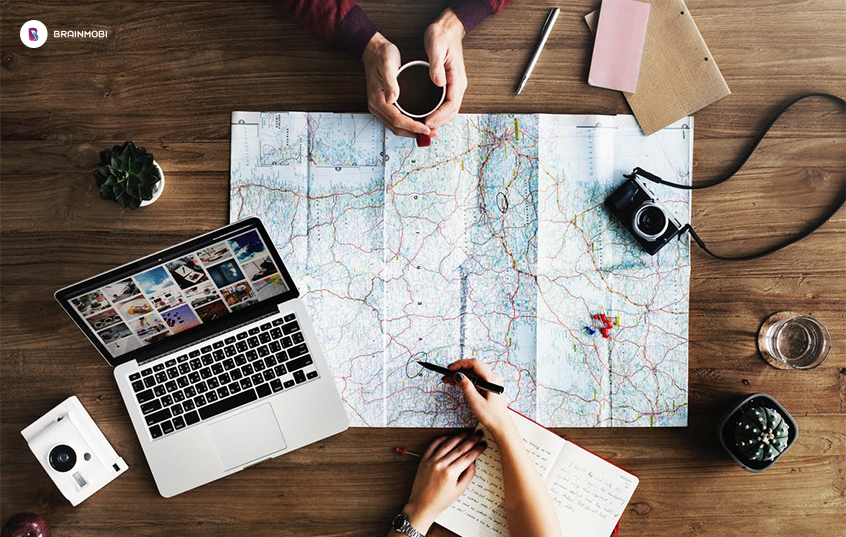 What happens to most travel agencies is that they start small and keep growing until, at a certain point of time, their growth isn't as much as their expenses are. So they think of pushing their brand forward by getting corporate clients. Corporate clients are highly profitable because instead of getting just one customer, you are getting a lot of customers to provide your services to. While you would have to give heavy discounts to these customers, the profits are in the numbers. So how exactly do you get such clients for your travel agency? By using your app( I am assuming that you already have a mobile app for your travel agency).
Your app is your gateway to the unsurmountable amount of customers. At the customer end, they are getting a great deal of knowledge about what you have to offer. The thing that needs to be considered here, however, is the information that you are putting out there. Your app may contain blogs, articles, offers etc. Just about anything you would want to put in it. The challenge here is to promote yourself in a non-obnoxious way. You don't want to just keep on blasting your offers on your customers without giving them any value. You want them to enjoy the experience that they get on your app because you want them to keep coming to your app to know about the latest offers that you have for them. This makes your app the best platform to boost your business.
Wondering how this is going to help you get corporate clients for your travel agency? Well, corporate clients love it when the travel agencies stay connected with their customers and have a model based on which they model their apps. Having an app which shows them exactly this would be more than beneficial. There is no denying that a travel agency following this is a successful travel agency which would keep the employees of the corporate clients happy. If your core values are centered around the customers, it should definitely show in your app. That is what would attract your corporate clients if done properly.
Let your app be your business card. Get your app built in such a way that it acts as a business card for both, your customers as well as corporate clients. Make sure that you have all the information compelling the customers to use your services down in your app and while you are at it, make sure that the information is compelling to corporate clients as well.
Your app also acts as a source for lots of data. This data gives a lot of important insights about your client base. They tell you about what your clients like, what they don't like, which place they like to visit time and again, which place they find least attractive to visit, which place has the best services, which place has the worst services. All of this data helps you design your course of action in the future. Having a course of direction with your app is certainly something any corporate would like to look forward in a travel agency.
BrainMobi is a leading travel app development company. With a team of top travel app developers having quite an experience in the industry, we make unique apps which are feature filled and modeled and chiseled according to the needs of our clients as well as yours. Contact us at sales@brainmobi.com to know how we can make a travel app for your travel agency which can help you get corporate clients.
Found it useful? Let us know in the comments below.
---