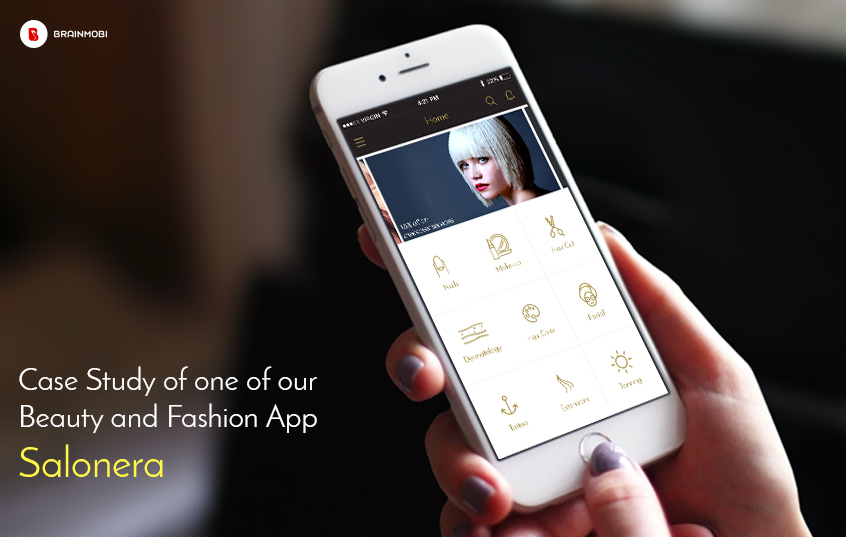 Recently, BrainMobi developed an app called Salonera. In this blog, we would discuss about the app, all of the difficulties we faced while developing the app, and the ways in which we dealt with the difficulties.
Overview of Salonera
Salonera brings you the largest network of premium beauty destinations in a single click. Compare nearby salons on the basis of their quality and price, and book them at your convenience. Check out a this link for a better intuitive understanding.
Client's Wish
Women often have troubles in selecting the nearby salon that would suit their needs best. Annoyed, they end up choosing the wrong salon. Our client needed a solution which solved this problem. They needed an app with which their users could compare the salons near them based on the rates they charge and the quality of services they have to offer.
Our Genie's Response
We developed an iOS app which did exactly what the client wanted in the app, all down to a few simple taps.
Challenges Faced by Our Genie
The first major challenge that our genie faced was to design the app to perfection. Many designs were made and remade before the design was finalized. We focus on making connections, not clients. Hence we try to make the apps as close to perfect as possible. And if that takes multiple design remakes, we won't refrain from working on the design multiple times.
The second major challenge that our genie faced was deciding how the various features were to be implemented. You see, when we develop apps, we don't only focus on making the app look good, we focus on making it efficient as well. An app that looks good but takes up a lot of space on the device is far from being an app that we find good. So it was a major challenge for us to implement various features of the app in such a way that the app didn't consume much space on the device.
How Our Genie Overcame the Challenges
The first major challenge was taken care of by our creative design team which works day in and day out to provide our clients with impressive app designs for which the clients would fall head over heels. It took some time and a few revisions, but in the end, it turned out well. The client totally loved the design and we started developing the app in no time.
The second major challenge was taken care of by our experienced team of expert mobile app developers. They used their knowledge which they have attained and perfected with all the apps that they have built to make the app as lightweight as possible. An app which would've easily taken up more than a 100MB of disk space was optimized to take up a little over 30MB. That is the kind of optimization that our team is capable of delivering.
The other challenges were all boiled down to nothing by our team of experts.
Why You Should Try Our Genie Out
BrainMobi is a leading mobile app design and development company. Our team of top mobility experts have an in-depth knowledge of the mobile app development industry and are hence able to deliver high-quality apps which are successful in all app marketplaces. The development team we have has a proven track record of delivering apps which are loved by the clients as well as the users. Our R&D team is one of the best in the industry, keeping us on top of every worthwhile advancement. We develop cutting-edge algorithms to help us in furthering our motto, which is "creating next-gen apps". So send us your requirements at sales@brainmobi.com for a free quote on your idea!
---