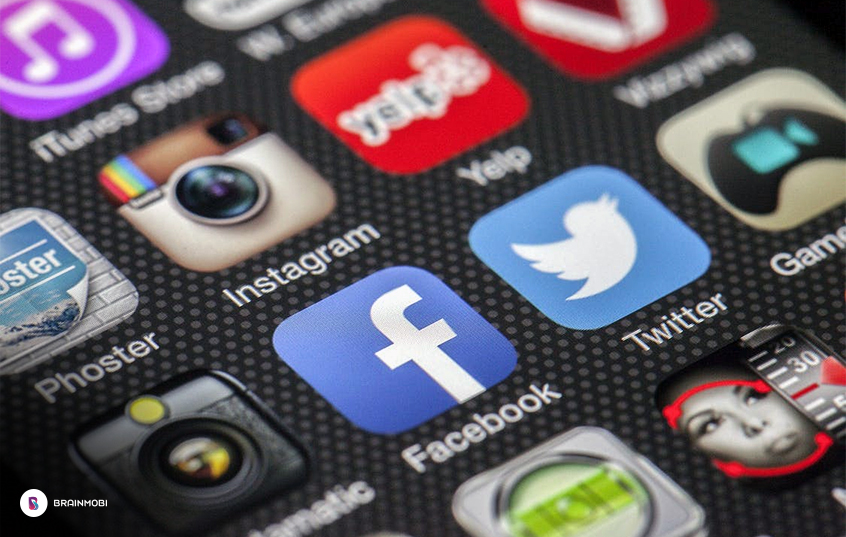 The Internet is all social and with so many social networking apps and websites, social media is an undeniable force that is one favorite stop for the most successful marketing campaigns in the world. It has undoubtedly become a powerful stay for many businesses to make themselves popular among digital frenzy millennial. From 'Save Water' to 'Buy Fresh vegetables', social media is one platform that offers endless opportunities for both client and businesses to crack the best deals. To build such successful social media apps and websites, entrepreneurs and enterprises trust BrainMobi to buy all that it takes to make a good fit for the title of the best social media app.
At BrainMobi, experts with well-skilled experience understand the impact and prevalence of each dos and don't while developing a social media app. As there is no dearth of social media apps, you need BrainMobi like professionals to evolve your idea with a pitch to knock out dominant players. Below are some popular social media app categories that are built and developed at BrainMobi apart from fresh ideas that are also most welcomed:
Promotional Apps
Designers and developers at BrainMobi understand how crucial each pixel and line of code holds when user experience is at stake. After scrutinizing the whole set of requirement, the entire team sits together to chin up the process of building a great deal of business success with a top-notch promotional mobile app with chiseled features.
Contest Apps
Contest app fits the bill to be the best and highest engagement models. When there is a requirement for a business model to render user engagement over a campaign, clients prefer to choose contest apps as an option over other prevailing practices.
Sweepstakes Apps
Sweepstakes apps are the ones which provide an incentive towards audience participation in the form of prizes and entice them to share the message with their friends in exchange for additional rewards. At BrainMobi, well-versed designers and developers have evolved many Sweepstakes ideas into a popular mobile app. Count on sweepstakes apps when effectiveness is at stake to render a  high-interest level among a subset of your audience that has an interacting with your brand or product.
Fun Social Games
Business theme based Social Media Games are a big hit and brings a record-breaking success. They are amongst the most engaging genre of apps to-date. We are expert at building fun and interactive game app that definitely multiples audience Interaction to many folds while offering a memorable gaming experience
Interesting & Informative Quiz Apps
People could not resist but share a great experience gained over social media. Hence a Quiz app is another popular option to bring audience attention along with branding, useful information distribution, elements of humor and a successful end-results.
One Stop Social Media Hub
One social media hub accumulates all the social media profiles at one place. We solve this problem by creating One Stop Social Media Hubs, where we integrate all the content in one place which is accessible via desktop or mobile devices to ensure no-one or nothing gets left behind.
Reach out to us to build a responsive microsite that integrates all your social profiles in one place and drive your traffic there for maximum reach.
Choose BrainMobi to build your Social Media App
Social media app development is an elaborate process with so many sub-tasks. But at BrainMobi we do believe that innovative ideas, our expertise, and one of the strongest development team is enough to create a successful project that would help you reach business goals and bring truly loyal users. Count on BrainMobi to emerge your idea out of challenging instances and integrate that winning streak.
Enlighten us with your queries: sales@brainmobi.com
---