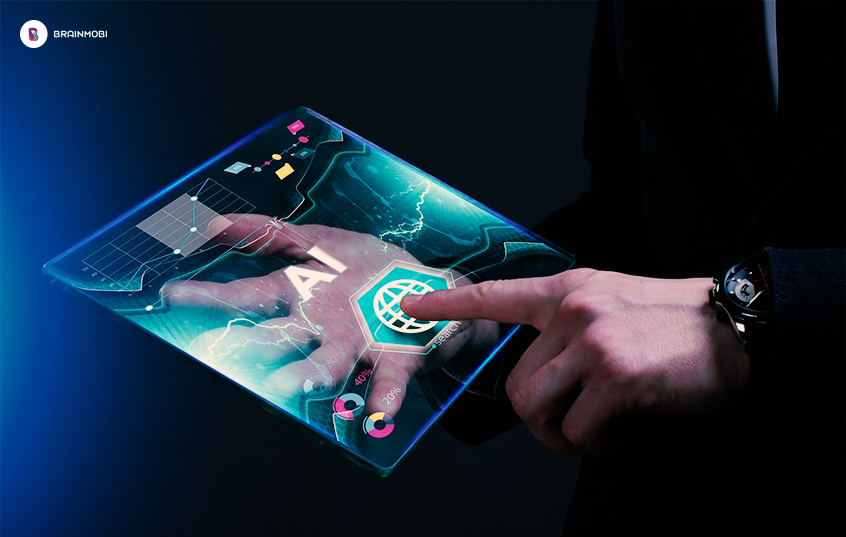 Most of you must be familiar with the concept of Artificial Intelligence from renowned Sci-Fi movies. From text analytics to business assistant, AI has now started stretching its dominance over various sectors. Sectors like telecom, insurance and hospitality are setting examples by replicating human-like machine behaviour across their business.  Other are also keenly looking forward to reviewing their business strategy around the much prevailing AI-based solutions. But what exactly is Artificial Intelligence? here is the definition:
What is Artificial Intelligence?
It can be classified as a group of related technologies including natural language processing, expert systems & machine learning. These functionalities can comprehend and behave similarly to how the human brain does, which have already transformed the way in which companies look at the overall customer experience.
According to a survey conducted by Narrative Science and the National Business Research Institute, 32% of financial services executives confirmed to use AI technologies in form of predictive analytics, recommendation engines and voice recognition etc. In fact, 62% of organisations will be using artificial intelligence technologies by 2018. Adding more to the list, The Royal Bank of Canada has recently implemented Siri functionality across their iOS App. According to Accenture and their report 'Accenture Banking Technology Vision 2017', bankers believe AI will revolutionize the way they gather information and engage with users.
It's evident from the above stats that markets and domains have started realising the importance of urgency to roll in Artificial Intelligence. There will be more and more user inclination toward implementing it across sectors in coming time where human interference is least required.
Let's take an insight into how Artificial Intelligence offers incredible across the banking sector:
How is Artificial Intelligence a boon for Mobile Banking?
Mobile has gained worldwide popularity and usage like phenomena where user accesses their phone 45 times a day. The market is trying their best to narrow down higher profits with the best of technologies to lure target audience. Artificial Intelligence is one of those weapons to step up the game in terms of customer experience with scope for unlimited opportunities. AI enabled tools help banks to gain insights of customer behavior and empower human behavior while empowering crucial transaction on the go.
Let's go through the key areas through which AI personalize banking experience to another level. Here are some factors to drive the influence in your app:
Customer Support
Apart from an incredible product, customer service also plays a vital role in building an amazing support system to build a high-end brand value. Throughout the stats, it's evident that user is highly inclined toward the new technology and experiences. AI based customer service chatbots are a big hit these days. It gives an experience that sets a business into a pool of opportunities on accelerated rate. Simply, an opportunity where the user can do more easily within less time is the most attractive concept till date.
Advising
Many apps offer customized suggestions based on collected user data through behavioral analysis. AI based Robo-advisors are one of the example that provides portfolio management without the assistance of a human representative. With AI-based products, advising becomes more refined in best user experience. Top mobile app developers across the globe have trusted this features with all their credibility.
Personal Planning
How convenient it would be when you get a list of recommended interests based on your emotional and behavioral insights. In addition to providing personalized advice using chatbots, AI-enabled apps help customers plan for events in the future. Many other entrepreneurs have chosen this feature to implement across their app development projects for higher conversion rate per visit. At BrainMobi, we also suggest our clients leverage greater benefits with personal planner wrapped up with a ultra-filtered approach.
Automated Transaction
The user has become accustomed to automation and loves the fact to have functionalities running timeline crucial tasks. The world of Payment is all weaved around automation and automated real-time processes. At BrainMobi, our top AI App developers have built several projects based on popular automated functionalities.
Personalized Reminder
Just like an alarm clock, AI based personalized reminders are laced with upgraded functionalities set to become active at a certain period f time. Recently, in one of our applications, we have implemented this functionality meshed around the latest technologies like Artificial Intelligence, Augmented Reality, Virtual Realities etc.
Apart from all the above-mentioned attributes, there is more which AI offers while bringing immense convenience at service.
Our top AR app developers at BrainMobi help clients with well-rounded app development services across domains. Let us become a part of your success story with our optimized app development approaches.
Drop us a hint: sales@brainmobi.com
We would love to receive comments and feedback from our readers regarding scope for more updates.
---