Top AR App Development Company
Augmented Reality App Development
Augmented Reality Apps provide engaging mobile apps oferring seamless animation and a distinguished user experience. Create immersive experiences by augmenting 2D/3D graphics, audio, video and let customers interact with that information in real time. Reinvent your brand with Augmented Reality Applications developed with BrainMobi to create compelling marketing campaigns for your business. AR Apps helps you to develop a strong relationship with your customers by offering them rich user experience. Our team comprises of experienced and highly-qualified AR Developers who leave no stone unturned to deliver the best app as per your business requirements.
Pokemon GO is the best example to define the worldwide success of Augmented Reality as a technology. Across continents, people have been loving the game since the very first day of release. Rated as one of the top downloaded game in the history of AppStore, Pokemon Go has also been ranked among the top selling games. Companies across sectors have been using the technology to superimpose a computer generated image to add realtime experience to enhance ROI. As the feasibility of the product has increased in the market, Augmented Reality App Development has picked up speed. Join BrainMobi, one of the top app AR/VR App Development company in the journey to create incredible mobile solutions based on Augmented Reality and Virtual Reality.
How Augmented Reality (AR) App Works
With the help of specific software, AR apps work on smartphones, tablets and smart glasses to create interactive experiences for you. Point your device's camera towards an image, object, location and see digital information in the form of graphics, objects, audio and video right on the screen.
An app uses the GPS in your smartphone to know your present location. It oversees phone's positioning with electronic compass to decide the direction it is pointing at.
The app hunts for text, hyperlinks, video, & pictures, etc. in a database which have been tagged towards that particular location in the compass direction from the current location.
Once the app finds the relevant information from the database, it positions them over the image of the object on your phone's screen.
Let your customers experience a whole new world right in front of their eyes!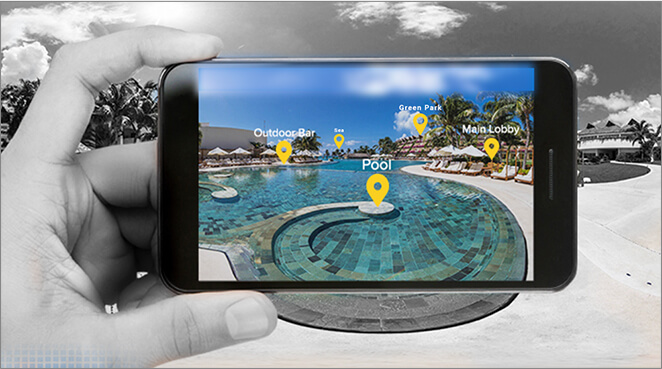 Why Choose BrainMobi as your Augmented Reality

App Development partner?

BrainMobi collaborates with CEO's, entrepreneurs and business owners to conceptualize seamless opportunities in AR for Retail, AR for Games, AR for Healthcare, and AR for Education creating rich augmented reality experience. Augmented Reality is changing the way people see the world. BrainMobi gives you high quality Augmented Reality app development services to build innovative and interactive mobile apps. Our team of AR App Developers have a track record of building interactive AR Apps. With our state of the art infrastructure and flexible engagement model, we offer localization benefit for your business through mobile AR systems that have elevated location-based services. Want us to be your next IoT app development partner? Contact Us!